ST-Ericsson U8500 Cortex-A9 smartphone platform debuts [Video]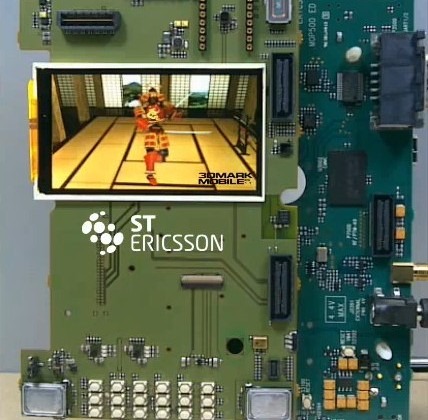 The ST-Ericsson partnership between STMicroelectronics and Ericsson may only be young – the two firms founded the wireless semiconductor development project in February 2009 – but they're already showing off some interesting wares.  The ST-Ericsson U8500 uses an ARM Cortex-A9 MPCore SMP dual-core processor paired with the ARM Mali-400 OpenGL ES2.0 and OpenVG1.1 GPU; together, they're capable of outputting 1080p HD video in a smartphone form-factor.Video demo after the cut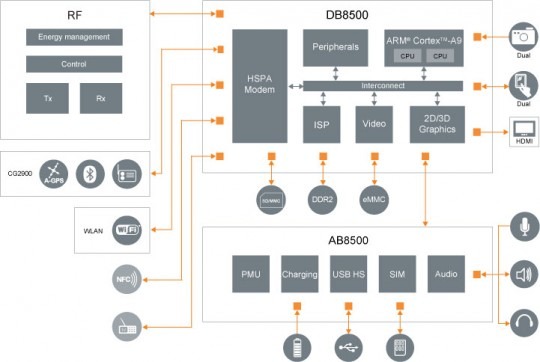 In fact, the U8500 is powerful enough to support dual displays simultaneously, up to XGA resolution touchscreens, and dual cameras with integrated ISP for 18-megapixel and 5-megapixel optics.  There's also WiFi, Bluetooth and GPS, together with integrated USB 2.0 and HDMI output, and mobile TV support is an option.  Obviously there's also HSPA connectivity.
ST-Ericsson have already added Android support to the U8500, though right now there are still a few bugs in the implementation.  It'll also play nicely with Symbian and other Linux-based OSes; ST-Ericsson are already members of both the Symbian Foundation and the OHA.  We're not sure when we might see the first U8500-based devices, but going by the smoothness of the demo video below, we're already excited.
Press Release:
ST-ERICSSON AND ARM IN COOPERATION TO ACCELERATE INNOVATION IN MOBILE USER EXPERIENCE

ST-Ericsson's U8500 platform first to integrate Mali-400TM graphics processing unit providing access to a leading-edge environment for graphics developers

GENEVA, SWITZERLAND AND CAMBRIDGE UK – Oct. 21, 2009, ST-Ericsson, a world leader in wireless platforms and semiconductors and ARM [(LSE: ARM); (Nasdaq: ARMH)], announce a cooperation to accelerate the next step in mobile user experience and graphics innovation with the creation of a Mali technology-enabled development platform for content and application developers available via the ARM MaliTM Developer Center. The cooperation will speed up bringing consumers a better gaming experience in terms of high quality graphics, video and audio on their mobile devices. At the same time it will improve the user interface with enhanced performance, quicker responses and the ability to implement 3D graphics. The availability of the platform will enable developers to reduce significantly the time-to-market of content and applications for next generation devices.

The ARM Mali Developer Center (www.malideveloper.com) fosters a growing developer community of software engineers by providing resources such as graphics software development tools, example code, documentation and access to upcoming hardware through a community-based web portal.

"ARM has welcomed the opportunity to launch this joint initiative with ST-Ericsson. The availability of this development platform will help achieve and accelerate the Mali vision of outstanding graphics in any consumer electronic device," said Lance Howarth, general manager, ARM Media Processing Division "By using the platform, members of the Mali Developer Center will be able to access Mali GPU capabilities early and create outstanding content and applications for the next generation of consumer devices."

"Advanced graphics play a key role in the user experience for a wide variety of portable and consumer devices. Our collaboration with ARM will bring the Mali GPU capabilities to the developer community," said Marc Cetto, vice president, 3G Multimedia and Platforms Division, ST-Ericsson. "With this co-operation we foresee that our customers will benefit from the early availability of a broad range of innovative content for their devices."

To provide access to a leading edge environment, the development board is powered by ST-Ericsson's U8500, the first smartphone platform to integrate the ARM Mali-400 OpenGL ES2.0 and OpenVG1.1 graphics processing unit. The U8500 is one of the earliest mobile platforms to introduce an ARM Cortex™-A9 MPCore™ SMP dual core processor and can support HD video playback at 1080p.