Spy Camera Sunglasses: not exactly James Bond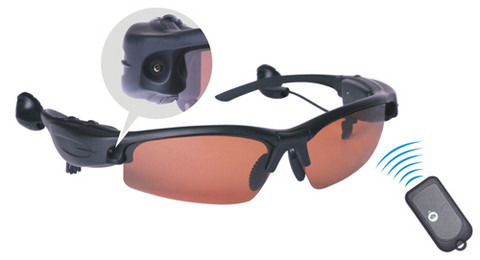 The geek in me wants to love these camera-encrusted sunglasses, but the rest of me (i.e. the bit that looks after the credit card) recognises them as the awful junk that they are.  Basically a pair of UV400 polarized lenses with a frame burdened down thanks to a 1.3-megapixel digital camera and MP3 player, they have 1GB of onboard storage and a rechargeable li-ion battery good for 9hrs (assuming 1 photo taken each minute).  Like with Oakley's Thump the earbuds are attached to the arms.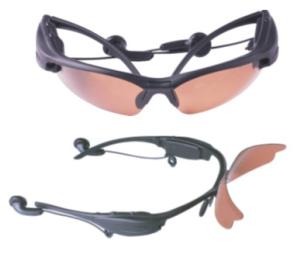 Rather than having to tap your sunglasses every time you want to take a shot, there's a little wireless remote control that triggers it.  Unfortunately that doesn't control the MP3 player, which has separate controls on the frame itself.  A Mini USB port serves double-duty recharging the battery and transferring photos onto your computer.
Perhaps people are a whole lot less suspicious where ThinkGeek are, but I don't think these "Spy Camera sunglasses" would sufficiently blend in at any of the places I go to.  If you really want to take surreptitious photos of people, you'd be better off using your cellphone: the quality is likely far better, and nobody will take a second glance unless you make it really obvious (disclaimer: SlashGear obviously doesn't condone taking photos of people when they don't want to be photographed!)  Priced at $99.99, they're available now.
[via Everything USB]