Spritz targets 1,000wpm readers on wearables, Glass and more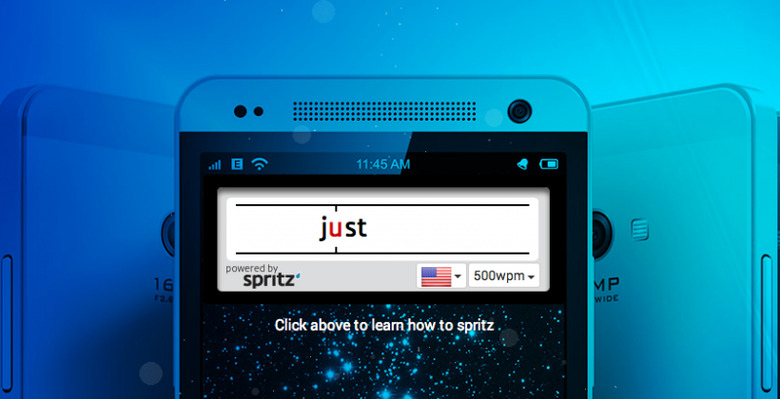 Could you comfortably read at 1,000 words per minute? That's what startup Spritz claims, revealing a new reading technology aimed at phones, ereaders, and tablets, but also smaller displays like smartwatches and Glass-style wearables, that by showing one word at a time, can allow people to consume text at vastly increased rates, without missing out on comprehension.
Revealed at MWC 2014, and already demonstrated as part of Samsung's launch for the Galaxy S5 and Gear 2 smartwatch, Spritz works by putting the core of each word in a sentence in the same place on-screen. By keeping the words in that one spot, you don't waste time moving your eyes around the display, along and across different lines.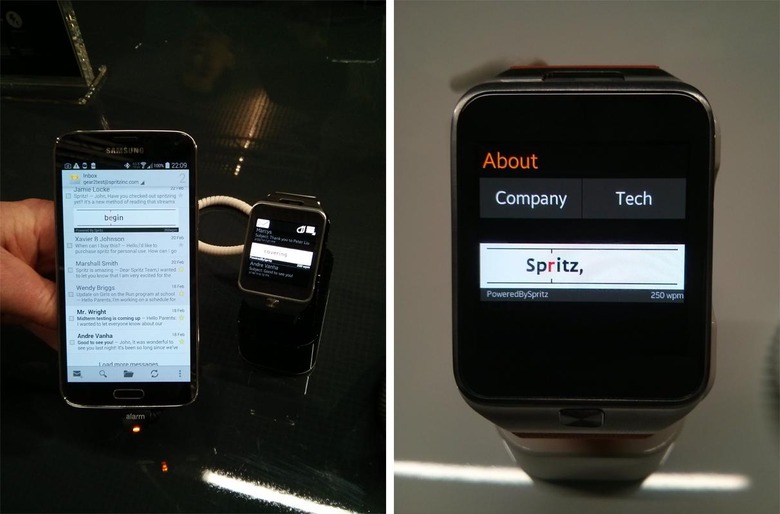 Meanwhile the company uses targeting marks – Spritz calls it the "redicle" – of horizontal lines and hashes to direct the reader's eyes.
Speeds range from 250wpm to 1,000wpm, and the company says its research indicates readers retain just as much information as with traditional reading, if not more. Font also makes a difference, Spritz found; the company has shared some of its research findings to explain why.
Considering the limitation of small displays on wearables – which has led companies like Google to remind Glass wearers that the headset is intended for impromptu notifications, not for consuming whole novels – Spritz certainly seems like an interesting alternative to lots of page scrolling and panning. In our own quick tests using the company's demo, we were able to comfortably get to 500wpm within minutes.
Spritz won't be commercializing the reading technology itself, but instead has SDKs and APIs it will be licensing to third-party website, device, and app makers. Currently it's in talks with content providers, mobile device manufacturers, wearables companies, and more, though there's no word on when the first Spritz-enabled products might be released.