Sprint slaps lock on iPhone 4S SIM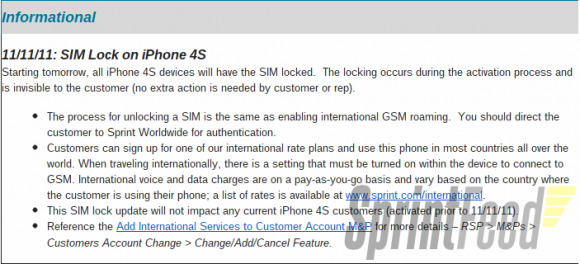 Apple giveth, and Sprint taketh away. Just as official unlocked iPhone 4S sales kick off through Apple's own webstore, news surfaces that Sprint will, from today, be locking the SIM slot of the iPhone 4S handsets it supplies. Until now, Sprintfeed reports, the CDMA carrier has been quietly supplying the fifth-gen Apple smartphone unlocked, meaning users could drop in their own choice of microSIM when abroad and bypass Sprint's international roaming fees.
However the carrier has now put a stop to that, with a leaked internal memo to staff suggesting that "all iPhone 4S devices will have the SIM locked" and that the "locking occurs during the activation process and is invisible to the customer." Those wanting to use their handset abroad, on GSM networks, will be directed "to Sprint Worldwide for authentication" though it's unclear if there will be a fee levied or other hoops to jump through.
Instead, Sprint would prefer subscribers take advantage of their own roaming plans "on a pay-as-you-go basis" for voice and data access. "This SIM lock update will not impact any current iPhone 4S customers (activated prior to 11/11/11)" the memo concludes, so if you got in early then it seems that you're safe.
Although Apple began sales of an unlocked iPhone 4S today, the handset can only be used on GSM networks not CDMA ones. Still, it's generally a far cheaper way to use your phone abroad, putting in a local network SIM rather than relying on roaming fees. The flip-side, of course, is the higher initial purchase price to escape the two-year agreement: Apple's unlocked iPhone 4S starts at $649 for the 16GB model.
[via Mac Rumors]