Sprint Samsung Instinct HD gets spotted in wild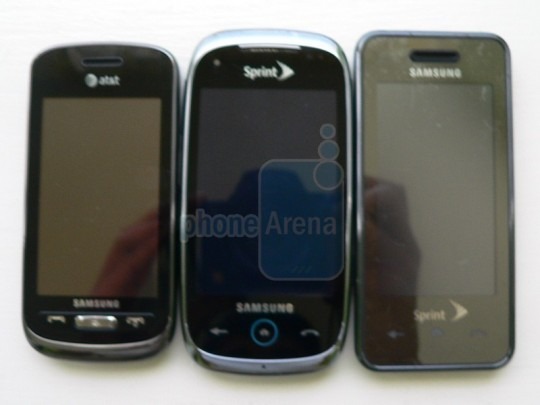 We're resisting the urge to break into a rousing chorus of "We Are Family" at the sight of Sprint's upcoming Samsung Instinct HD snuggling in between its siblings, so instead we'll just point to the slightly bowed casing (middle-aged spread, perhaps?) and – in an image you can see after the cut – the 5-megapixel camera.  The handset, last spotted in a Best Buy promotional leak, is tipped to arrive within the next month or so.
The images (of which there are more over at phoneArena) also show the Instinct HD's UI, which is obviously an evolutionary rather than revolutionary continuation of the earlier phones.  Still, it's attractive for a feature-phone, and there's no denying that the EVDO Rev.A touchscreen handset will likely find plenty of buyers given the success of the original Instinct.
So far a full spec list is conspicuous by its absence, but we're expecting the Instinct HD to have WiFi, Visual Voicemail and Exchange support.  The handset is also expected to include social networking widgets for one-touch access to Facebook, MySpace and YouTube, and be capable out outputting HD video content to an attached display.