Best Buy list Samsung Instinct HD, confirm headline specs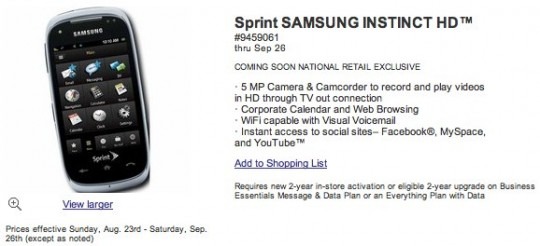 Best Buy's website has outed the upcoming Sprint Samsung Instinct HD, and while there's no confirmed release date the "coming soon" handset's launch would seem to slot into a month-long window.  It also confirms the official name for the touchscreen handset, which has been variously known as the m850 Dash and the S50 along its leaky history.
Among the confirmed specifications are a 5-megapixel camera with still and video recording functionality, together with a TV-output for showing your HD-resolution content on a bigger display.  There's also WiFi and visual voicemail, together with what Best Buy refer to as "Corporate Calendar" – likely Exchange – support and obviously web browsing.
No pricing details, but Best Buy's listing does claim to be relevant from between August 23rd and September 26th so a release in that window looks likely.  More details of the handset here.
[via Engadget]]