Sprint Playbook Suggests Data Throttling is Imminent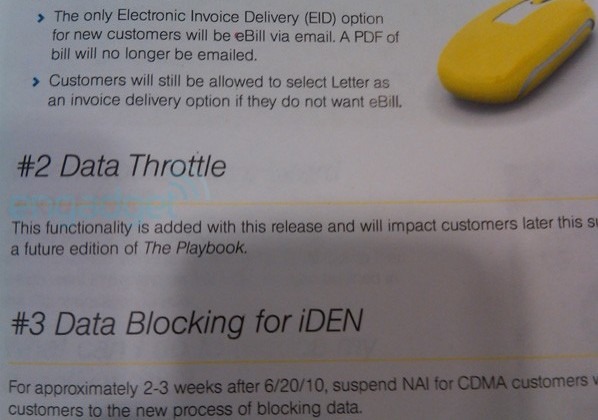 As carriers all around the world start removing unlimited data plans from their plans, some carriers still have other plans. T-Mobile started to throttle data users back from high percentages, and it looks like Sprint is about ready to start doing the same thing. Of course, this comes on the heels of the recently launched Android-based device, and the wireless carrier's first 4G handset, the EVO 4G.
Whether it's connected, or just a coincidence, we can't be sure. Either way, if this leaked image from Sprint's "The Playbook" is any indicator, then it looks like the third largest wireless carrier in the United States is getting ready to start monitoring your data consumption. Sure, you may have unlimited everything, but if you start nearing some unknown cap, you'll start to notice a few stark changes: speed, for instance.
Unfortunately, the tipsters, nor the leak itself, says anything about the details. Just says that it's going to start some time in the Summer. The details are crucial when it comes to something like this, so as soon as we hear something more, we'll be sure to pass it along. Any Sprint customers out there want to chime in?
[via Engadget]