Sprint offer Dell Inspiron Mini 10 netbook with onboard EVDO Rev.A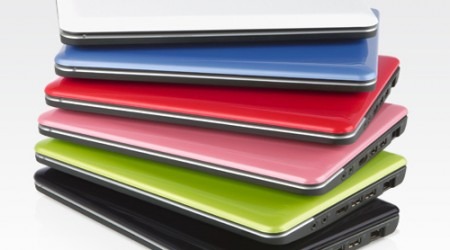 Sprint have announced their first EVDO-enabled netbook, though they don't quite seem to have figured out the magic tipping point that really pulls in the customers.  The carrier is offering a Dell Inspiron Mini 10 with integrated EVDO Rev.A, but rather than do the sensible thing and hack great chunks off the up-front price (while knowing you'll make it back with the mandatory two-year agreement) their netbook is in fact $199.99, and that's after the rebate.
That gets you a 10.1-inch 1024 x 600 display, Intel Atom Z520 1.33GHz processor, 1GB of RAM and a 160GB hard-drive.  There's also WiFi b/g and Intel GMA500 graphics; the same netbook costs from $349 from Dell themselves.
As for the data plan, that's the standard Sprint Mobile Broadband Connection plan at $59.99 per month for 5GB of data.  Unfortunately for Sprint, AT&T are currently offering exactly the same netbook with integrated GSM data, priced at $60 per month for the contract but just $149.99 upfront for the Inspiron Mini 10 itself.
Press Release:
Sprint Offers Ultra-Mobile, Ultra-Affordable Computing with Dell Inspiron Mini 10 Powered by America's Most Dependable 3G Network

New Netbook Adds to Sprint's Industry-Leading Device Portfolio and Offers Affordable, Blazing-Fast Mobile Broadband Access in an Extremely Portable Package

SAN FRANCISCO–(BUSINESS WIRE)–Nov. 2, 2009– Sprint (NYSE:S) today unveiled Dell™ Inspiron™ Mini 10, the first netbook available from Sprint on America's most dependable 3G network1. This companion PC offers blazing-fast Internet access in a convenient, affordable and portable package that can easily fit in a purse, backpack or briefcase. It is now available at select Sprint Stores throughout the Bay Area for just $199.99 with activation on a Sprint Mobile Broadband plan and a two-year service agreement, after a $100 mail-in rebate.

Dell Inspiron Mini 10 features embedded EV-DO Rev. A wireless service from Sprint that supports faster data rates and higher system capacity, enabling customers to send and receive large amounts of data at broadband speeds comparable to DSL. These faster speeds enable customers to take advantage of robust applications and services, such as wireless voice-over-IP (VoIP), high-speed video telephony, music on-demand and video messaging.

Sprint's EV-DO Rev. A provides customers with expected average upload speeds of 350-500 kbps and download speeds of between 600 kbps and 1.4 mbps. Peak download data rates increase to 3.1 Mbps (from 2.4 Mbps), and peak upload data rates increase to 1.8 Mbps (from 153 kbps).

"Dell Inspiron Mini 10 is a fun way to easily access the speeds of Sprint's network to catch-up on email, surf the Web and more," said Kevin Packingham, senior vice president – Product Development, Sprint. "We are excited to add this great Dell product to our industry-leading portfolio of devices available from Sprint that work on America's most dependable 3G network. It offers an affordable way to stay in touch and stay connected."

Dell Inspiron Mini 10 weighs just 2.6 pounds and measures 10.3 inches (L) x 7.2 (W) inches x 1.1 inches (D). Its 10.1-inch LED, 1024 x 600 WSGVA screen is perfect for managing email or Web surfing. It offers an Intel® Atom Processor® Z520, Microsoft Windows® Home XP SP3 Edition, a built-in 1.3MP webcam, 160 GB Hard Drive, Integrated Intel® 500 Media Accelerator Graphics, 5-in-1 media reader, Bluetooth® technology and Wi-Fi 802.11g.

Customers purchasing Dell Inspiron Mini 10 will also sign up for Sprint's Mobile Broadband Connection Plan offering 5 GB of data for $59.99 per month with a two-year service agreement. Ideally suited for small businesses and consumers who live a mobile lifestyle and want to enhance their productivity by being connected just about anywhere they go, Sprint Mobile Broadband plans allows customers to get ultra-fast access to the Internet on their laptop.

The Sprint 3G Mobile Broadband Network (inclusive of data roaming) has over twice the coverage of AT&T's current 3G network (based on square miles), including twice as many airports and nearly twice as many cities as AT&T. Sprint has more than 14 times the coverage of T-Mobile's current 3G network, based on square miles2. Sprint's Mobile Broadband Network (inclusive of data roaming) reaches more than 269 million people, 18,652 cities and 1,838 airports.

According to Sprint performance data, Sprint Mobile Broadband connections are successfully connected and maintained better than 99 out of 100 times. According to an independent network test conducted by PC World, Sprint tested as the most reliable network overall among U.S. carriers in a 13-city performance test3. In every market tested, Sprint beat AT&T on reliability. So, no matter where customers take their Dell Inspiron Mini 10 from Sprint, they can be assured of a seamless and fast user experience.

In San Francisco, Sprint won in all three PC World test categories: download speeds, upload speeds and reliability.

In Boston, Denver and Seattle, Sprint was the only carrier to connect 100 percent of the time at reasonable speeds.

In Chicago, Sprint also won the reliability race, with a 91 percent connectivity rate.

In Orlando, Sprint tied with Verizon with a connection rate of 90 percent, while AT&T connected only 52 percent of the time.

In Portland, Sprint connected 91 percent of the time, while Verizon and AT&T connected 82 percent and 73 percent of the time, respectively. Sprint's 3G download speeds were also tops in Portland, clocking in at 905 kbps.

In San Diego, Sprint tied with Verizon with a connection rate of 87 percent, while AT&T connected only 65 percent of the time. Sprint also won in download speeds of 831 kbps.

Sprint is the only wireless carrier to offer Ready Now service with trained retail associates to work one-on-one with customers to set up their Dell Mini 10 and demonstrate how it works before the customer leaves the store. Customers have the choice of sitting down with a Sprint retail associate at the time of purchase or they can schedule an appointment for a later time at www.sprint.com/storelocator.