Sprint / Motorola Event on June 9th [Piet Mondrian Themed Dual-Core?]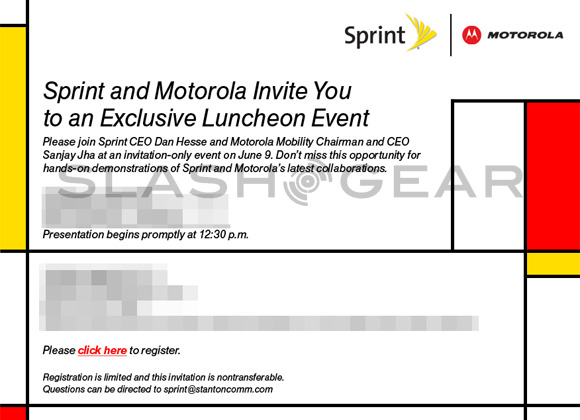 We and the rest of the press of the world including Android Community have just been invited to an event in New York hosted by Motorola and Sprint. This event, given the brands attached to it, will certainly play host to a new device manufactured by Motorola and carried by Sprint – but that's all we know. We can certainly make some educated guesses, on the other hand, and several guesses as to what we'll be seeing is just what we happen to have. First of all, it's been said that a re-branding of the DROID X2 is on the way with the name Photon 4G attached to it, carried by Sprint. Seem reasonable?
Another idea that we've been tipped off too is one where this device is an ATRIX 4G-like device but with better dock accessories. How the dock could be any more high-quality than the ATRIX 4G has is beyond me, but I personally must guess and point out that the DROID X2 is able to use all of the DROID X's accessories already, pointing toward a much more vast selection than most phones have out of the box. A third item that might be obvious to you already is that the invite itself recalls a Piet Mondrian painting. Squares of color intersected by black lines for pop-art magic. What does this mean for the phone? Perhaps nothing, but maybe a name.
How about Motorola Mondrian? Maybe the Sprint POP 4G. I like both of those – seem possible to you? We'll be at this event right alongside Android Community to bring you the news first, everything you need to know about said event and whatever happens to be announced at it. Cant wait!