Sprint Motorola ES400S trades pocket-appeal for ruggedness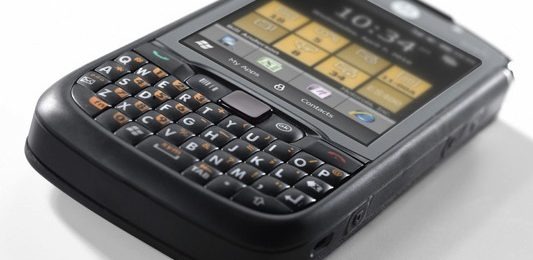 Motorola's ES400S isn't exactly pretty – though we have to say it does have a certain rugged, purposeful charm – but it's tough and flexible, even with Windows Mobile 6.5.3 as the OS.  The "enterprise handheld device" (based on the regular ES400) is headed to Sprint at the end of October 2010, priced at a hefty $499.99 (with a new agreement) but capable of withstanding dust, four foot drops and bumps.
Specs include a 3-inch VGA resolution touchscreen, WiFi a/b/g and EVDO Rev.A, along with a GSM/HSPA for international roaming.  There's also GPS, 1GB of ROM and 256MB of RAM, and a 3.2-megapixel camera which can fire out a red line – just like supermarket scanners – for using it more easily with 1D and 2D barcodes.  The regular battery is a 1,540mAh pack, but there's an optional 3,080mAh pack if you're looking for extra runtime.
Frankly this is of little interest to most people, but if you're out in the field, want biometric security and are rough with your smartphones, the Sprint Motorola ES400S might be the handset for you.  Just make sure you have deep pockets in all senses.
Press Release:
First Motorola Mobile Enterprise Handheld Device to be Branded, Stocked and Sold Through a Wireless Carrier, Motorola ES400S by Sprint, Available by End of October

Motorola ES400S offers access to the Sprint 3G network,

superior ruggedness, enterprise-class barcode reader capabilities,

built-in Biometric finger swipe security and a customizable enterprise user interface

OVERLAND PARK, Kan. – Sept. 28, 2010 – Businesses demand capable, secure and rugged devices to get the job done, and Motorola ES400S by Sprint (NYSE: S) will soon be the ideal enterprise mobile device to do just that. Offering integrated voice and data capabilities that can unleash the full potential of mobile professionals, Motorola ES400S by Sprint is designed to transform business operations, increase enterprise profitability, and help teams complete their jobs anywhere and anytime.

Available by the end of October, for as low as $499.99 for qualifying business customers or $549.99 with a new line or eligible upgrade and two-year service agreement, Motorola ES400S requires a Sprint® Business Advantage Messaging and Data plan or an Everything plan with data.

Motorola ES400S is the first Motorola enterprise handheld device to be carrier-branded, stocked and sold to businesses of all sizes through Sprint sales channels, including Business Sales, Sprint.com and Telesales (1-800-SPRINT1). It will also be available through the Sprint Business Solutions Partners, which can provide value-added services, including advanced help desks and application integration.

Enterprise managers and workforces across field service, field sales, healthcare, retail, utilities, manufacturing and transportation/distribution industries will benefit from the device's compact design and mobile access to business-critical applications and back-end systems.

"Motorola ES400S was built with the business user in mind and expands Sprint's leadership in rugged devices," said Danny Bowman, president – Integrated Solutions Group, Sprint. "With its compact size and access to advanced applications leveraging the Sprint 3G network, Motorola ES400S is a breakthrough enterprise-class device that can meet the needs of business users who are constantly seeking ways to boost individual and team productivity. Sprint is ideally positioned to offer business customers tools uniquely suited to meet their needs, and continues to build a reputation as an industry leader among companies searching for cost-effective wireless devices and applications."

Built on Windows Embedded Handheld technologies, including the Windows Mobile 6.5.3 platform for seamless connectivity, application compatibility and support for industry-specific applications, advanced security and device management mobility needs, Motorola ES400S provides the familiarity of a desktop with an intuitive, customizable user interface for quick access to critical apps. Key enterprise-friendly features include:

Customizable Motorola Enterprise User Interface (MEUI) makes business-critical information and functions available with one key press. Includes enterprise-specific enhancements like photo annotation

Enterprise-class security including built-in Biometric fingerprint reader

Durable construction to withstand dust, drops and bumps, with certifications for MIL-STD 810G, for a 4-foot drop, and IP42 sealing specifications

3-inch VGA touchscreen

3.2 MP camera with red line aimer for easy barcode scanning and one-button push-to-scan for one- and two-dimensional barcode reading

Wi-Fi/802.11 a/b/g with Enterprise Security

1 GB ROM/256 MB RAM

CDMA EVDO Rev. A for domestic service and HSPA/GSM for international roaming

VoIP ready

GPS

Battery: 1540 mAh standard battery and 3080 mAh extended battery (sold separately)

Motorola ES400S is designed for task managers working hands-on in the field or in the office and juggling management responsibilities who rely on access to high-value data and applications to sustain productivity.

"We are pleased to be working with Motorola and Sprint to extend Windows and the benefits of cloud computing to the world of high-performance and connected enterprise handheld devices," said Kevin Dallas general manager of the Windows Embedded Business Unit at Microsoft Corp. "The future for enterprise handheld devices is endless, and the new Motorola ES400S powered by Windows Embedded Handheld (based on Windows Mobile 6.5.3 technologies) demonstrates opportunities for enterprises to boost the productivity of their mobile workforce with anytime, anywhere access to vital information."

Motorola ES400S enables rich applications to be easily developed, ported and deployed on the device, while meeting enterprise security needs. It also includes the unique MEUI, providing users with a customizable business-class interface. Designed for efficiency and speed, MEUI features include:

one-touch access to applications

business-focused home screen

single touch barcode scanning

enterprise-class camera application

simplified call management screen with touch-friendly dial-pad

readily accessible device management tabs to eliminate the need to drill down through multiple menus and screens to adjust settings

Sprint has earned top honors in the competitive business marketplace – winning the #1 ranking for overall satisfaction for wireless voice service providers and a matching #1 ranking in overall satisfaction for wireless data service providers in a survey of large business decision makers, according to a comprehensive study by Yankee Group and Mobile Enterprise Magazine (www.mobileenterprisemag.com).1

The study indicated that Sprint ranked first in overall satisfaction in wireless voice and data, and in voice services, ranked first or second in nine of the 10 categories among large business customers.