Review : Sanyo Katana II From Sprint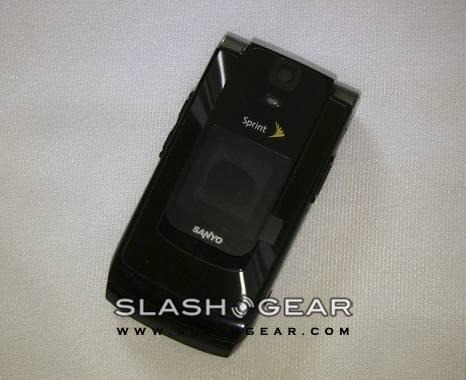 With new fashion phones launching every day, it's difficult to stand out. While some might see this as offputting – or as an excuse to churn out a dull-but-serviceable handset – Sprint have obviously viewed it as a challenge. Their Katana II cellphone, an exclusive to the carrier, goes to show that entry-level needn't mean poverty-spec.
First thing that grabs you with the Katana II is the fact that it feels pretty well made. There's certainly something of the Moto RAZR about the clamshell's exterior – no bad thing considering the V3 was, and still continues to be, a big seller – while the plastic body has the look (and resilience) of a more sturdy material. It's pretty small, too: 3.7" x 1.9" x 0.6" and just 3.1oz, making it true shirt-pocket material. Unlike many "fashionable" phones it's not aimed soley at the female population, either; in addition to the requisite pink, you can have the Katana II in black and steel-grey.
Inside the slick casing things are more cutting edge than you might imagine. True, the camera is only VGA, but having GPS built-in goes a long way to making up for that, and the handset works smoothly with Sprint's excellent Navigation guidance service. The expected bevy of messaging and productivity features are present and correct: SMS and MMS picture messaging for the former, calendar, scheduler, to-do list, world clock, calculator, stopwatch and alarm clock in the latter. Email is the only disappointing omission, especially given the relatively well-spaced and tactile keypad (which trades eye-catching gimmick layouts for easily-thumbed, regular buttons), although the phonebook will, a little confusingly, store email addresses along with numbers and web shortcuts.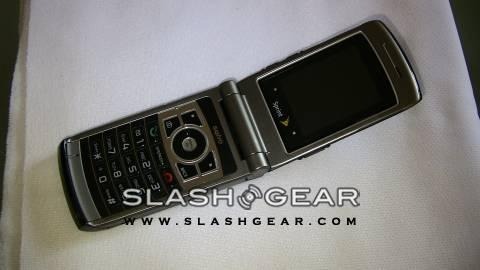 Sprint's high-speed Power Vision data connection is similarly absent, obviously too much to hope for on an entry-level handset, but the Katana II will still work as a tethered modem, albeit at lower, Vision-service speeds, and wireless contact backup keeps a server-based replica of your phonebook should your phone be stolen or lost. Bluetooth is onboard making picture transfer simple, though there's no A2DP stereo headphone support. Downloaded wallpapers and screen-savers display cleanly on both the large 1-inch external 80 x 80 LCD and QVGA 2-inch 240 x 320 internal display. Neither will win awards for standout performance but they easily hold their own in their class.
In terms of performance, with a fair signal the Katana II can deliver decent sound quality and little echo. Data speeds were, unsurpringly, nothing to write home about, but plenty fast enough for sending and receiving picture messages and occassional web browsing. If you really want to make the most of the mobile internet, however, you'd be better off looking at a Power Vision handset from Sprint's range (such as, perhaps, the Katana DLX – also launched today).
As a serviceable, dependable cellphone with more than a minor nod to fashion, the Katana II could readily fit the bill. Unless you've a real taste for email or IM, or have designs on using your phone as a high-speed modem, it makes sense to check it out.
More picture of Sprint Katana II below.