Sprint AirCard 402 EVDO card for ExpressCard & PC Card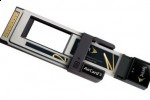 Sprint have launched their first two-in-one mobile broadband card, in the shape of the Sierra Wireless AirCard 402.  The AirCard 402 can either be used in a narrow ExpressCard slot or, with the broader adapter casing fitted, in an older PC Card slot.
Whichever way you connect it, what's on offer is support for dual-band CDMA and EVDO in 1xRTT, Rev.0 and Rev.A flavors.  There's also GPS and new "illuminated graphics", which basically means they've slapped an LED behind the logo. 
If you want to use your EVDO card with multiple notebooks and netbooks which have multiple expansion card versions, this is probably the modem for you.  Now all we need is a USB plug to make it really flexible.  The Sprint AirCard 402 by Sierra Wireless is available now, priced at $99.99 (with a $180 instant-rebate and a $50 mail-in rebate).
Press Release:
Sprint Mobile Broadband 2-in-1 Card by Sierra Wireless

The AirCard® 402 is a sleek and innovative solution that supports PC and Mac notebook computers with EV-DO Rev. A wireless access, leveraging Sprint's Mobile Broadband network. For those Mobile Broadband users who want to use the card slot on their laptop instead of a USB port for mobile broadband connectivity, the AirCard 402 is convenient and ultra compact to make frequent use and travel easy. Designed to work with both ExpressCard and PC Card slots, the AirCard 402 includes a locking 2-in-1 adapter to go from PC Card to ExpressCard slots with ease.

BASICS:

Compatibility: Windows® Vista, XP, 2000, MAC OSX, Linux

Dimensions: 5.11" x 2.13" x 0.42"

Weight: 2.08 oz

Chipset: Qualcomm® QSC 6085

Frequency: Dual-band (CDMA 1900 and 800 MHz); supports EV-DO 1xRTT, Rev. 0 and Rev. A when available

Antenna: Built-in

System Requirements:

Memory: 64 MB

Disk Space: 32 MB

Slots: Express Card or PCMCIA Type II Card slot

Processor: Pentium 150MHz or higher

Dial-Up Networking: DUN bound to TCP/IP

FEATURES:

Simple Installation of Sprint SmartView™ Software: The AirCard 402 includes Sierra Wireless's automatic software installation experience for Sprint SmartView. A CD is no longer required so you're up and running in fewer steps and less time. If you switch to a new laptop, the AirCard 402 will automatically begin the installation setup and you won't need to search for a setup CD. Hands-Free Activation will complete the setup by automatically activating the device on Sprint's Mobile Broadband network quickly and easily. Users will need to have the device's ESN on a Sprint account before starting the installation process.

Sprint's Mobile Broadband Network: The Sprint AirCard 402 delivers the best possible performance a 3G network can offer. AirCard 402 owners will enjoy typical upload speeds of 350-500 Kbps with peak speeds of 1.8 Mbps and typical download speeds of 600 Kbps – 1.4 Mbps with peak speeds of 3.1 Mbps where EV-DO Revision A is available. This means a 500 KB presentation can be sent to your client in eight seconds from the airport lounge. In areas where Rev. A networks are not available, the AirCard 402 is backward-compatible to Rev. 0 and 1xRTT networks.

Durable, High-Performance Design: Featuring a fixed, internal antenna and high strength plastics, the AirCard 402 is built for maximum ruggedness and reliability. Its compact design takes away the worry of storage, breakage and unplugging; the AirCard 402 extends about an inch from the side of your notebook, allowing users to leave the card plugged in while on the go.

GPS Capabilities: The AirCard 402 includes high-performance GPS capabilities for a quick and accurate fix on your location. With the latest version of Sprint SmartView software, the AirCard 402 provides access to desktop GPS applications and/or location-based services to "locate and search" the nearest bank, restaurant or gas station. Simply open Sprint SmartView and click the GPS bar in the Mobile Broadband window. A GPS drawer then opens up, offering One-Touch access to search categories.

Eye-Catching, Lighted Graphics: The AirCard 402 is the first card form factor from Sprint to incorporate a new and innovative lighted design. Plug the AirCard 402 into your laptop and watch the graphics light up. Passers-by will be sure to notice your device once it's lit and your ability to connect to broadband networks wirelessly.

For more information visit www.sprint.com/mobilebroadband