Sprint 2010 range leaks: HTC WiMAX phone, Palm C40, BB Tour 2.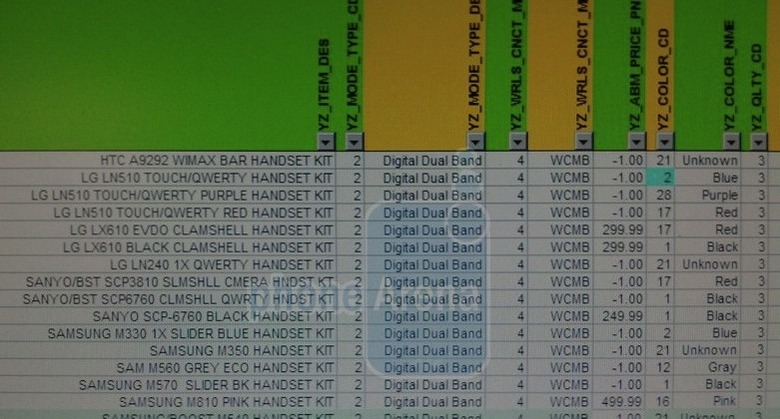 You'd think CES 2010 would sate even the most gluttonous of gadget-hounds, but apparently there's still room for a leak or two.  Sprint's 2010 device line-up has apparently been leaked, with phoneArena's tipster providing them with details of handsets ranging from an HTC WiMAX candybar (codenamed A9292) through the Palm C40 (a different device from the existing Pre and Pixi) and the BlackBerry Tour 2 9650 (the sequel to the current Tour).
The BlackBerry Tour 2 9650 is tipped to include WiFi and use the new BlackBerry 5.0 OS; other BlackBerry devices will include the new BlackBerry Pearl Flip.  Meanwhile there'll apparently be a Motorola Windows Mobile smartphone, which given the company have said they've no plans for a WinMo 6.5 device would seem to suggest it could be a Windows Mobile 7 device.
Elsewhere there are several LG devices – the LG LN510, LN240 and LS680 – with various combinations of touchscreens and QWERTY keyboards, models from Samsung – the M350, M570 and M910 – and a new Sanyo 8600.  The tipster also reckons Sprint will launch a full-touchscreen Android 1.6 smartphone, the Motorola i1, for its Nextel iDEN subscribers, complete with a 5-megapixel camera, together with a black version of the Clutch and new rugged i680 and i890 devices.