Spotify Radio hits iPhone and iPad for free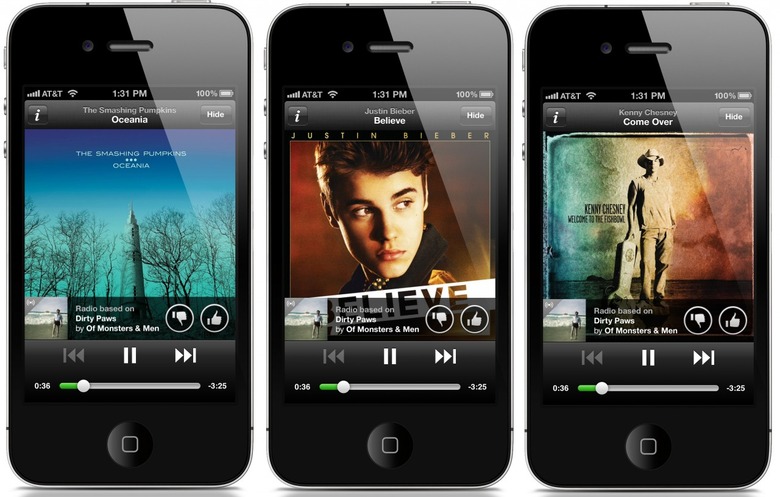 Spotify has brought its free mobile radio service to the iPhone and iPad, offering both ad-supported and premium subscribers unlimited streaming song access while on the move. A free download [Update: Spotify now says the app will be released in the "next few days"], the newly updated Spotify app allows listeners to construct personalized radio stations from the 16m-strong catalog, save individual tracks from them to their own playlists, and share radio stations with friends.
Meanwhile Spotify's recommendation engine will use global listening habits and trends to make suggestions of music it thinks listeners will particularly enjoy, based on their current radio tracklist. Like Pandora, there's support for real-time feedback that further shapes what's playing: voting up or down the current track prompts Spotify radio to play more or less music like it.

An unlimited number of stations can be created – whether you're a premium subscriber or not, as long as you're in the US – and there are no limits on how long you can listen for each month. Those who are currently paying for Spotify service will enjoy the radio playback ad-free, while free users will hear adverts (Chevrolet, Durex, Heineken, Red Stag by Jim Beam, Lipton Iced Tea, Macy's, McDonalds, Progressive, Red Bull, Taco Bell, Verizon Wireless, and Warner Bros are all signed up to be radio ad partners from launch).
The other obvious competitor to Spotify radio is Nokia's Mix Radio and Nokia Music services, currently bundled as free additions to the company's Lumia Windows Phone range. Spotify's new iOS app steals a vital advantage from the Finnish phones, and one which Nokia had been counting on to better differentiate its line-up from the competition.
Spotify Radio will be available for free and premium subscribers in the US, though only for premium subscribers in the remaining fourteen markets Spotify supports outside of the 'States. You'll eventually be able to download Spotify for iOS here [iTunes link].