Spotify Music Graph: The NME, Obama & more guide your playlists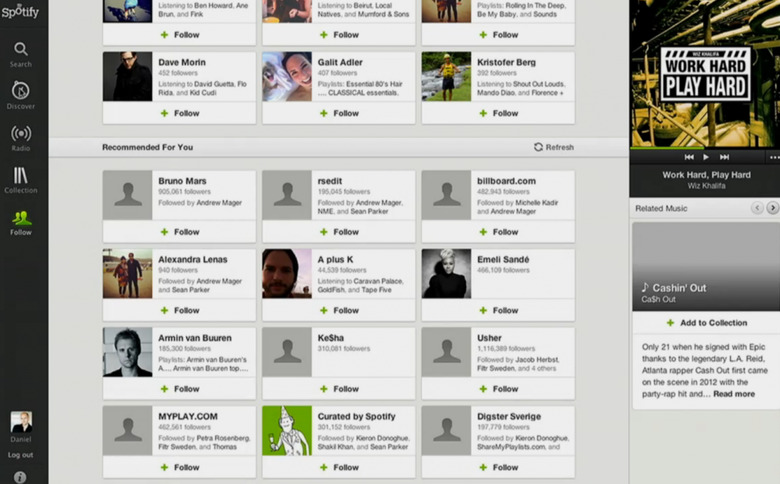 Spotify has launched Music Graph, a way of powering music suggestions based on famous listeners and people in the music industry itself. Designed to address that "what do I listen to next?" problem, Spotify Music Graph includes luminaries from Bruno Mars and Shakira, to the NME team, to Barack Obama, with the option to listen to shared playlists.
Artists can share their current playlists – not only including their own tracks, but those they recommend, as a way of building credibility among listeners – and users can build up a list of people they follow to learn about new music. Multiple playlists can be maintained, and there are recommendations as to who user might want to follow based on their listening history.
Among the participating celebrities, artists, and music luminaries:
Metallica

Barack Obama

Katy Perry

David Guetta

Justin Bieber

KCRW

Bruno Mars

Huffington Post

Pearl Jam

People Magazine

Entertainment Weekly

Lady Antebellum

Trey Songz

Wiz Khalifa

Slash
However, listeners themselves can also create their own playlists and share them. That can be done either solely on Spotify, or through links on Facebook, Twitter, and Tumblr. Usability will be particularly enhanced when the Spotify web player is released for all users early in the new year.
The Music Graph system can also alert listeners to when new tracks and albums from their favorite artists are released. In a demo, CEO Daniel Ek showed how a new Bruno Mars album popped up a notification on iOS, and with a swipe opened up in Spotify on the iPhone.