Spotify Mobile For S60 Released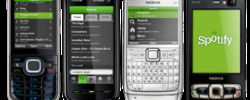 Streaming music-on-demand service Spotify threw the radio cat among the Nokia pigeons back in September, when it announced a S60 mobile client was on the way.  It's taken a few months, but now that client has been released, bringing Spotify to more than thirty devices running the S60 OS; that's not just Nokia handsets, either, since Spotify have made the necessary tweaks to get the app running on some S60 devices from other companies, such as the Samsung Omnia HD and the Sony Ericsson Satio.
Full list of supported devices after the cut
The client also supports offline mode, which caches tracks on the phone's memory for playback even without a wireless connection.  The full list of handsets compatible with Spotify Mobile for S60 is as follows:
You can download Spotify Mobile by visiting this page on your handset; it should automatically pick out your phone.  Remember, though, that you'll need a Spotify Premium subscription in order to use it, which is currently £9.99 per month.