Spotify may limit certain artists to paid subscribers only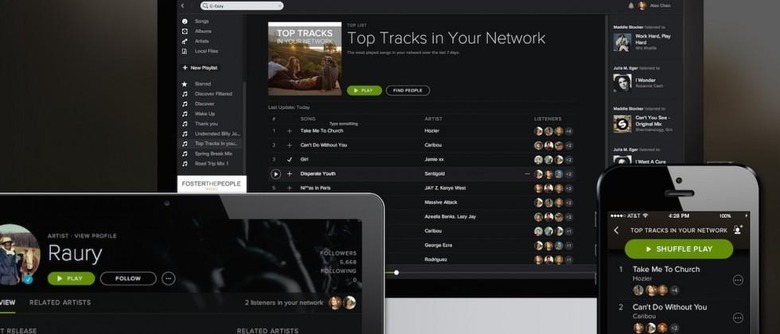 Following in the wake of decisions by Taylor Swift, and more recently, Adele, to keep their music off of Spotify due to what they felt was unfair compensation, the streaming service is now said to be considering a test that would limit which music can be heard by all 80 million active users, and which would only be available to the 20 million with paid subscriptions. According to the Wall Street Journal, Spotify may allow artists to decide which users have access to their music on the service.
Currently, it's Spotify's policy that all music be equally available to the 20 million paid users and the 60 million with free, ad-supported accounts. The WSJ says that Spotify is still in initial talks with music executives over the test program, but adds that it will take a "windowing" approach, where new music is temporarily unavailable to free users, and then made available to all sometime later.
You won't be streaming Adele's '25' on Spotify
More and more artists are growing unhappy with the difference Spotify pays between free streams and those paid for. The WSJ's report says that in the case of the Taylor Swift debacle over the summer, the musician's decision to pull her catalog from the service was the result of Spotify refusing to accept her request to limit her albums to paid users.
It is believed that Spotify's motivation to change may be a result of growing pressure from other streaming services that only offer paid subscriptions, such as Apple Music. Then again, should this paywall-type setup be put into effect, it could lead to a large number of free users choosing to jump ship and look for other sources of music.
SOURCE Wall Street Journal