Spotify for iOS updates with overhauled interface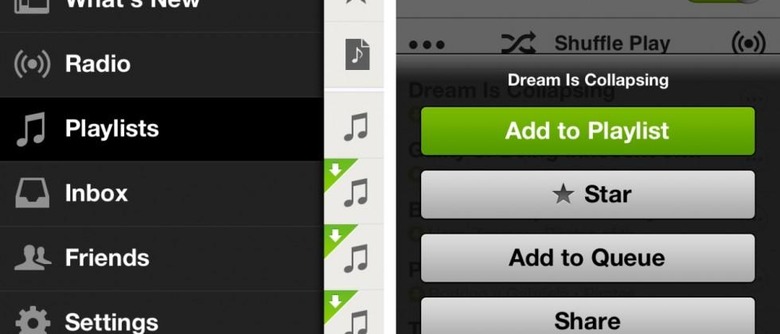 You may remember when Spotify for Android received a big overhaul during the summer last year. This time around, iOS is getting the same treatment. At first glance, it may look like the app didn't see a huge UI improvement, but a few new features were added that make all the difference when it comes to navigating around the music-streaming app.
Spotify for iOS now includes a sidebar that's really easy to get to. You can either swipe left or right, or you can tap on the button in the upper-left corner to bring it up. From the sidebar, you can navigate to your playlists, search for tracks or artists, listen to the radio, discover new music in the "What's New" section, and access your settings.
There's also the Now Playing bar that appears at the bottom of the screen while in the app. While you're playing a track, you can go back to browse other music and the Now Playing bar will show up at the bottom and it displays the artist, the track, and any album art. Tapping on the bar will take you right back to the music player.
There's also a new context menu. Just tap on the bubble next to each song in a playlist and a list of options will come up, such as "Add to Playlist," "Star," "Add to Queue," and "Share." Overall, it's a lot easier to navigate through the different menus, and the redesign makes it quicker to get to where you want to go. The update is available now, and the app is a free download, although you'll need to cough up $9.99 per month to take advantage of the mobile features.