Spotify Collections revolutionizes their music discovery platform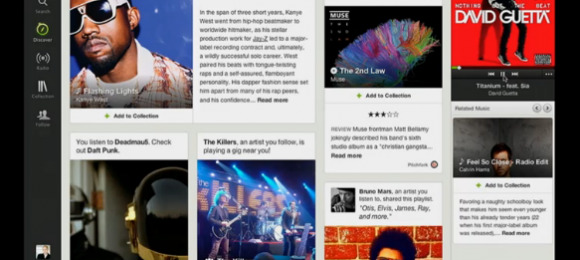 It's time to join the Spotify music discovery revolution for their software experience with your own Collection – their own suggestions, your own content. This update has the Spotify user experience expanded not just in the amount of music that's on the web for you to see easily, but creates a unique experience for you, the music user. The first place this all takes place in your Spotify "Collections", made on-the-go by Spotify for you.
Based on your interests you'll be finding a set of squares (as you see above and below) that show information about the music you're about to discover as well as brief previews of the tunes. With the buttons here in the Web App (also new today) you'll be able to press down to listen, this interrupting the music you've been listening to up until this point. After you let go, your track continues.
"Spotify is great when you know what music you want to listen to, but not so great when you don't ... We're adding tens of thousands of new songs every single day, a new artists is competing not only with new songs, but the entire history of music." – Daniel Ek
This Collections (not all that different from your own Collection) shows all the artists you follow, tracks they've got, and tracks that are related to them. This doesn't just mean that if you've got a collection full of Metal you'll only get Metal music, but that you'll get a selection of tracks that relate. If your best buddy from Slayer also likes Michael Jackson, you may very well be having a peek at that in your Collections.
Reviews from Pitchfork and information from other sites connected to Spotify are all integrated here in one way or another – this is just one of several giant moves Spotify has made this week in bringing their platform into the future. Have a peek at the timeline below for more information straight from the source!