NASA this week has delivered the next of several shuttles from their now-complete program, this most recent perhaps being the most famous in its name and history: The Space Shuttle Enterprise. This particular shuttle was never actually flown into space, instead reserved for test missions vital to the success of the NASA shuttle program. This shuttle was named after the popular 1960's Star Trek Original Series ship, the Starship Enterprise, and was greeted at its birth and here at its final resting place by no less than Mr Spock himself!
Leonard Nimoy was on hand this week to see the ship make its final berth, he having been one of the crew to be there when the ship was first christened back in 1976. Also on hand back then were the following (shown here as listed in the photo below): NASA Employee, DeForrest Kelly, George Takei, James Doohan (partly hidden, w/beard) Nichelle Nichols, Leonard Nimoy, Gene Roddenberry, NASA employee, and Walter Koenig.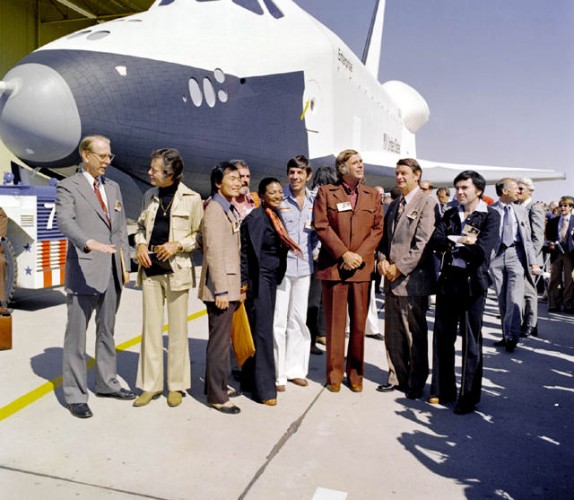 Speaking this week with CNN, Nimoy noted "It feels like a reunion." CNN also spoke with several other Star Trek actors who were on hand back at the original showing of the ship. One of these was George Takei, the actor who played Lieutenant Sulu on the original Star Trek series, who spoke about how the ship originally got its name from a letter campaign initiated by Star Trek fans:
"It was amazing what they accomplished. The number of letters going to the White House was of tsunami proportions. [At the first event] they [(NASA)] had the Air Force band there. And they started playing the theme from 'Star Trek.' Out rolled this glistening craft with the word Enterprise painted on its side. It was a memory that I still cherish today." – Takei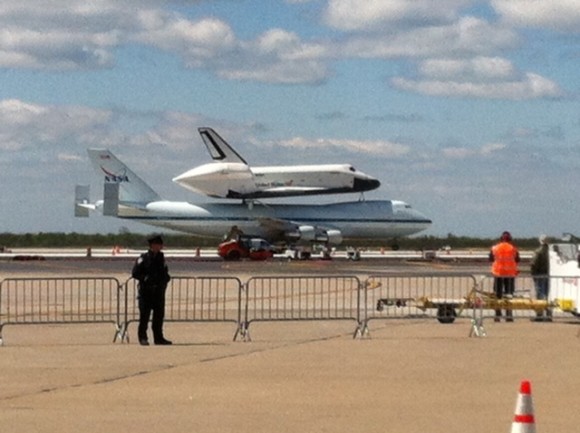 This ship will now be shown at the Intrepid Sea, Air and Space Museum in New York starting soon and until further notice, this again just one of several shuttles from the program being planted in museums across the nation this year.
[via +NASA]