SpiralFrog music closes its doors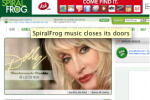 There aren't a whole lot of music websites out there, especially to compete with the big dogs like iTunes, but now there's even one less. SpiralFrog decided to close their doors yesterday after struggling to make ends meet in this economy.
Based in New York, SpiralFrog is a music service that's supported by advertising. And since web advertising revenue has gone down significantly in the past several months, it would make sense that their operations would be hampered by the economic climate.
SpiralFrog worked by providing music downloads for free to the public while bringing in revenue through ads. And while the drop in advertising surely took its toll, the DRM-protected music itself was likely a problem, as it could only be played on the computer with which you downloaded the files. So now, SpiralFrog is no more. It was nice knowing you!
[via The Washington Post]