SPIGEN SGP drops Galaxy S III protection in double-dose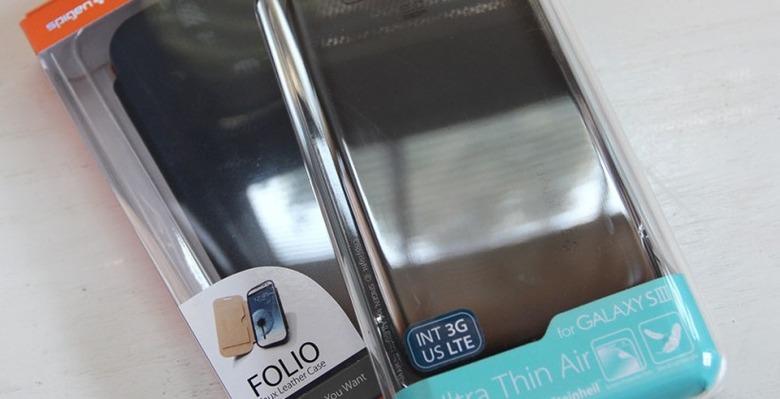 This week you'll be seeing the oncoming wave of Samsung Galaxy S III cases get just a little bit sweeter as SPIGEN SGP enters the race with two new bits of protection for themselves. First is the Folio faux leather case which closely resembles the Samsung-made flip-cover we saw with the release of the AT&T and T-Mobile editions of the phone. Then there's the Ultra Thin Air, a back-only case which comes with a Steinheil plastic coat screen protector for the front of the device.
The Ultra Thin Air case is rather simply, lending a UV Matte coated extra tiny layer of plastic to the back and sides of your device while it remains tiny enough to not cause you to wonder if it's worth the effort to protect your phone. You've got the ULTRA NANO CLEAR screen protector in the box as well, so your front will be fine for the duration of your Galaxy S III experience. This case is available in 8 colors, the one we're looking at here being "Smooth Black."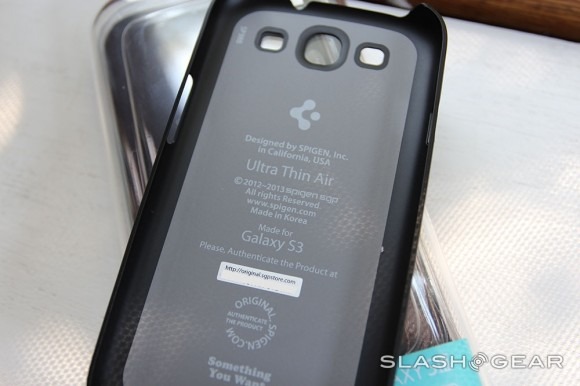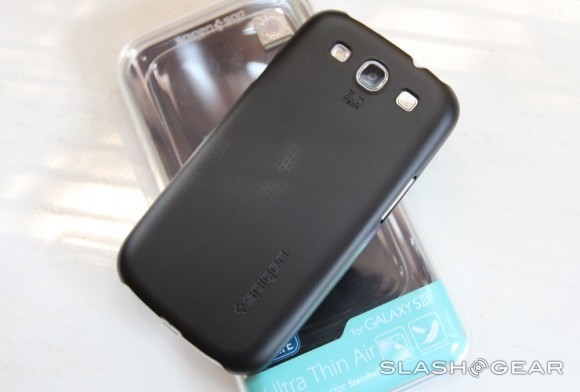 Next is the Folio faux leather case, this one acting like a smooth operator by fitting perfectly around the sides, front, and back of your device, holding it in place for the cover to come around the left and over the top. The cover also has a business card slot so you're never without. The whole case feels rather nice, but just like the Samsung-made flip-cover, the same problem remains: the cover doesn't attach to anything, so it's always flopping open. Of course just like a baseball glove, eventually it'll find its place and will stay down without effort – but if you're without patience, watch out.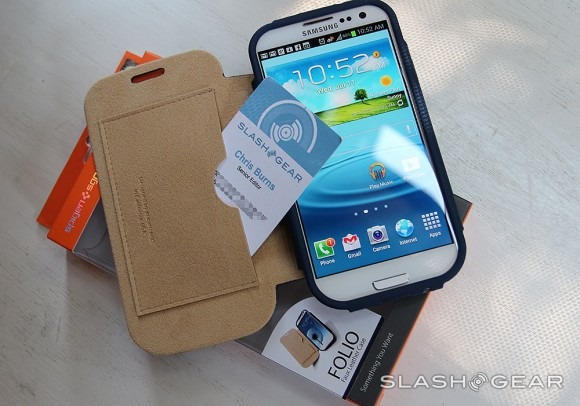 This case also comes in three colors, the one we're looking at here being "Navy Blue."
Both cases are of the highest quality you're going to find on the market, and both are available through SPIGEN SGP's online store right this minute. The Folio case will cost you $39.99 in pink, blue, or brown. The Ultra Thin Air case will cost you $19.99 in black, white, gold, mint, silver, tangerine, and two kinds of pink!
Have a peek at the rest of our hands-on experiences with SPIGEN SGP in the timeline below!