Spigen GLAS.t For The New iPad Pre-Production Hands-On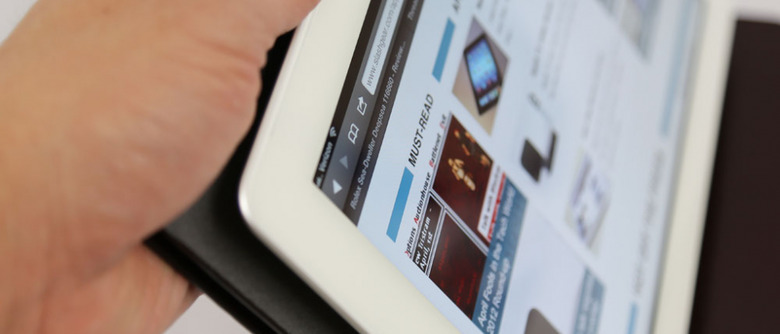 The folks at Spigen have sent us a pre-production GLAS.t unit for the 3rd generation iPad. This product is a sheet of protective glass which once you've removed a thin piece of paper coating affixes itself to the front of your iPad. Instead of protecting the already reinforced glass panel that exists on your iPad with the plastic of every other protective skin on the market, Spigen is bringing the strength that only another piece of glass can provide.
This isn't the first time we've had a look at GLAS.t, the first time being when we got the same product for the iPhone 4/4S. This GLAS.t is essentially the same formulation as that one, here also working with Oleophobic Coated Chemically Treated Glass. Again the unit we've got here is pre-production and the chemicals (including the fixative that attaches the glass to the front of your iPad) are not finalized. That said, it all seems to be working extremely well as it is already. Have a peek at the application process here:
This pane of glass is 0.4mm thick and has a hardness of 8-9H, that being three times the stronger than your everyday average PET film. The Oleophobic coating on the glass makes the whole pane easy to clean, and the silicon adhesive that attaches the glass does so in a firm and non-intrusive enough way that your screen's touch sensitivity will not be affected. Spigen has also noted that if GLAS.t does somehow break, it's made to break into tiny pieces that are not sharp – we'll see about that when the time comes!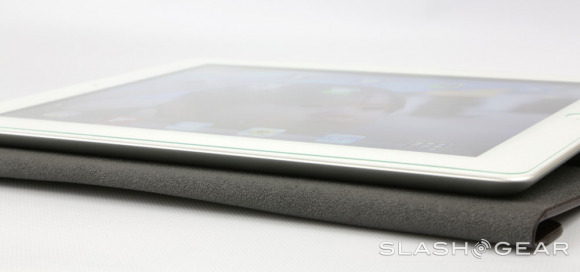 Have a peek at the video to see the contents of the box you'll get when you order this product in the mail, and let us know if you've got any questions of course! You can currently pre-order the GLAS.t for the new iPad for $69.99 from Spigen's online store and can expect it to be shipped in 3-4 weeks.