Spider-Man PS4 is getting the Sam Raimi suit after all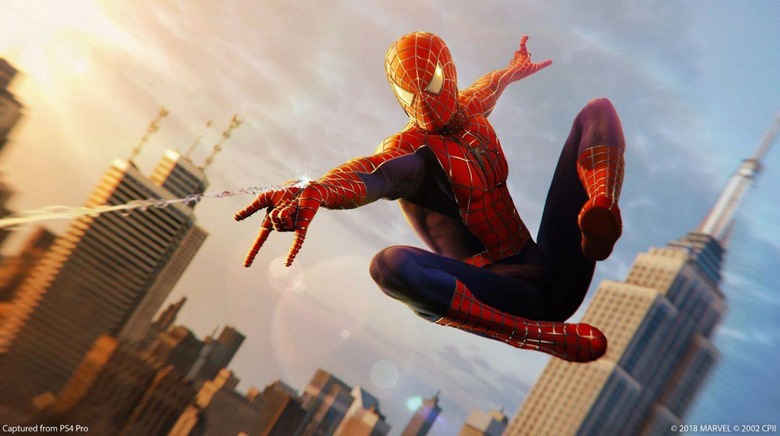 Silver Lining, the final DLC pack for Spider-Man's post-game arc The City that Never Sleeps, arrives tomorrow, but it appears Insomniac still has some surprises up its sleeve. The developer announced today that the suit from Sam Raimi's Spider-Man trilogy will be coming to the game after all. Thus ends a face-off between fans and Insomniac that could sometimes turn alarmingly vitriolic.
The Sam Raimi suit is something that has been frequently requested by fans. It's easy to see why, as the number of different wearable suits in the game serve to celebrate Spider-Man's past, so why not celebrate the film trilogy that helped breathe new life into the superhero genre? Sam Raimi's Spider-Man suit seemed like a shoe-in for the game.
Unfortunately, some fans apparently started believing that the appearance of the Raimi suit was a sure thing, and when Insomniac revealed Spider-Man: Silver Lining with no Raimi suit in sight, they got frustrated. What followed were back-and-forth conversations on Twitter that could at times become a little dramatic and insulting.
Hopefully we can put all of this behind us know that Insomniac has officially revealed the suit. It's arriving in game today, and on Twitter, Insomniac describes it as a "special holiday gift" for players. It's free too, so everyone who owns the game will get to pretend they're Tobey Maguire as they swing around New York.
For the moment, we're not sure if Silver Lining is the final DLC for Spider-Man or if Insomniac is planning to do more once we're into 2019. Future Spider-Man DLC hasn't been confirmed or denied, so we'll just have to wait on Insomniac and Sony for more details. We'll be keeping an eye out for more information, so stay tuned for that.