SpeedKore's 1,400hp Dodge Demon Rips 8.77 Second 1/4-Mile Run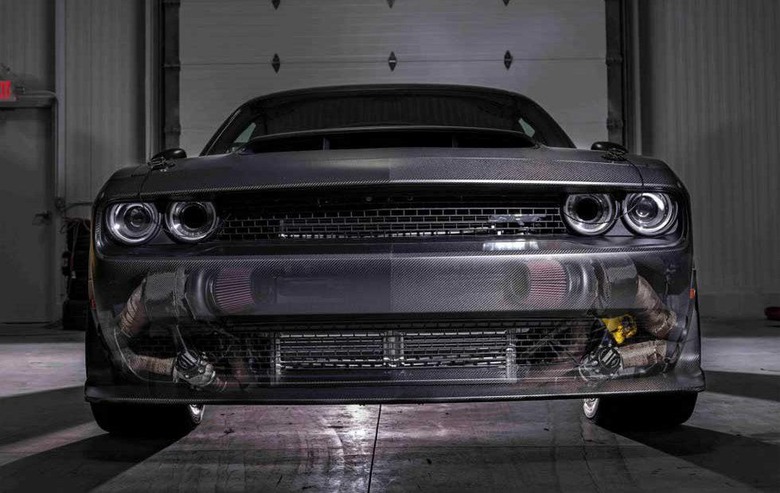 The Dodge Demon is already a beast of a drag strip racer right out of the box thanks to its supercharged V8 engine's 840hp output. SpeedKore took one of those Demons and made it even faster, way faster in fact. The extra speed comes from a massive increase in horsepower and weight reduction.
SpeedKore replaced the supercharger with a pair of turbos to generate 1,400hp at the flywheel. Dyno runs shows the Demon made 1,203hp at the wheels. The result is a Demon that can run the quarter mile in 8.77 seconds with a trap speed of 162 mph.
The insane part is that quarter mile time is only a second faster than the stock Demon can muster at 9.65 seconds. To reduce weight, SpeedKore also turned to a complete carbon fiber body shell. The ride is unpainted, so you can see the sexy weave of the carbon fiber panels.
It still boggles the mind that a stock factory Demon can run the quarter mile in 9.65-seconds and pull wheelies off the line. SpeedKore's Demon will be on display at SEMA starting October 30.
All the parts that are used on the SpeedKore Demon can be purchased by Demon owners looking for more speed and performance. Pricing on the SpeedKore mods isn't announced, but power costs money so start saving now.
SOURCE: MotorAuthority