Speck iPad/netbook/ereader bags hands-on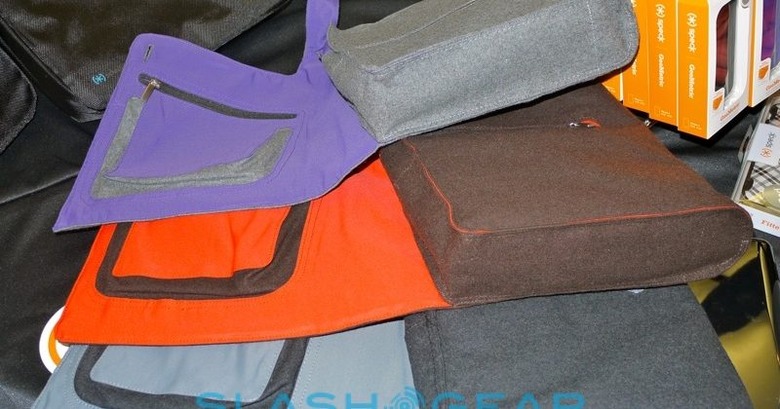 Speck has outed its latest range of cases and totes for small-format devices, such as Apple's iPad and the legion of 10-inch and smaller netbooks, ereaders and other slates.  We spent some time with the A-Line 10 tote, PortPack 10 shoulder bag and CorePack FLY 10 butterfly-design bag earlier this week; check out some first-impressions after the cut.
The A-Line 10 ($59.95) is apparently targeted at female iPad users, though the black/grey finish shouldn't upset too many men (there's also grey/purple and dark brown/red options) and the zip pockets inside and headphone openings will appeal to all.  It's smaller than you'd expect from the pictures – remember, its microfleece-lined pocket is designed for a 10-inch device – but nicely padded.
As for the PortPack 10 ($49.95), that only comes in black with a grey and blue interior, and has the same microfleece lining as the A-Line 10.  It's arguably more flexible, though, as it can be zippered closed to make a smaller bag when you're not wanting to carry everything in your gadget drawer.
Finally, the CorePack FLY 10 ($49.95) is airline-friendly and can be sent through a scanner without having to pull out everything inside.  It has the same color scheme as the PortPack 10 but opens up to create a flat work-surface; more useful for netbook owners than those with iPads.  All three are available now.
Press Release:
SPECK INTRODUCES NEW TOTES AND BAGS DESIGNED FOR iPad, NETBOOKS, E-READERS AND SMALLER COMPUTING GADGETS

PALO ALTO, CA — September 15, 2010 – More and more computing devices fit into the "smaller than a laptop" category and Speck's introducing a new line of versatile and fashionable carry bags and totes to accommodate them all. The three new offerings include the fashion-inspired "A-Line" Carry Tote along with the new PortPack 10 and Corepack FLY 10 Carry Bags designed specifically for today's smaller devices such as iPad, 10" netbooks, tablet PCs and e-readers.

"Each of our new bags were designed for the wave of smaller portable devices hitting the market," said Speck CEO Irene Baran. "From the purse-like styling of our A-Line carry tote, to the incredibly versatile design of CorePack FLY 10, to the understated and configurable PortPack 10, we feel our new bags offer the ideal balance of size, features and styling that make carrying these devices a pleasure."

Speck's new carry bags and totes for iPad, 10" netbooks, e-readers, tablet PCs and other smaller portable gadgets include:

A-Line 10 — Smartly Stylish Carry Tote

Finally, a clean, understated and fashionable tech tote that can hold your iPad, netbook, e-reader or other smaller device. The new tote takes its namesake from the apparel industry description for dresses and skirts offering the classic "A-Line" shape. Cute without being overwhelming and smart without looking like a nerdy nylon gadget bag, the A-Line Carry Tote was inspired by female users wanting a more stylish and fashionable purse-like look while carrying their devices. The zippered, padded and microfleece-lined main compartment holds and protects an iPad, netbook or e-reader, while two interior zippered pockets offer organized storage for other smaller essentials and include headphone cord pass-through openings. The A-Line features soft, comfortable fabrics, integrated shoulder strap and clean, single button front flap closure . Available in three distinct colorways to choose from – Grey exterior with purple interior lining, Black exterior with gray interior lining and Dark Brown with red interior lining, each $59.95 MSRP.

PortPack 10 – Versatile, Expandable Shoulder Bag

Navigating the urban landscape with your smaller devices is what PortPack 10 does best. This highly customizable bag stays slim when loads are light or unzips to expand to twice its capacity as needed. Low-profile zippered pockets offer extra storage space and organization for all the essentials, and a microfleece lined and padded zippered main storage compartment snugly holds and protects your iPad, netbook, or e-reader while on the go. Adjustable shoulder strap offers a perfect fit, headphone cord pass through openings keep the music playing and the front cover flap zippers off to create two completely different looks and accessibility options. Available in Black exterior with tartan plaid gray and blue accented interior linings for $49.95 MSRP.

CorePack FLY 10 – Airport Checkpoint-Friendly Carry Bag Unfolds to Lap Desk

Open up CorePack FLY 10's butterfly design and the bag instantly converts to a portable on-the-fly work surface. The butterfly feature is also airport security checkpoint friendly, allowing you to lay the bag flat without removing your device during x-ray scans. Use the over-the-shoulder strap, or the built-in brief case style carry handle to keep a comfortable grab on your gadget and essentials when on the move. A zippered, padded microfleece lined main compartment protects your iPad, netbook, e-reader or other small device and offers quick access. Headphone cord pass through openings allow for easy listening while your portable devices stay safely stowed in the zippered storage pockets. Available in Black exterior with tartan plaid gray and blue accented interior linings for $49.95 MSRP.

http://www.speckproducts.com/laptop-bags/corepack-10.html