Speakal iKurv iPhone docking station unveiled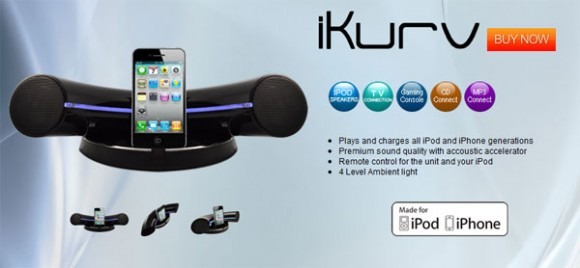 I can't really think of the Speakal brand without thinking of the cutely odd iPig dock for the iPhone and iPod touch that looked like a pig with touch control ears. Speakal has plenty of other strange and interesting docking devices though. The latest to come for the company is the iKurv designed to look like a spaceship. I don't really see any space ship cues in the design, but it looks cool nonetheless.
The design has a round tube that is curved around the speaker dock. The docking station will work with the iPhone 4S, 4, and 3 models along with dockable iPods. It will also work with other music devices as well. The iKurv is launching in black only, but it will also be offered later in pink, blue, white, yellow, and green colors. The black and other color devices will sell for $79.99.
It will charge the Apple devices while it plays and has 20W of power for premium sound. It has a LCD display and four levels of ambient light and a video output for hooking to a TV. The frequency response is 90Hz to 20Khz and t has an input sensitivity of 83 db. Devices other than the iPhone or iPod connect via a 3.5mm input.