Speakal Outs Cool iPig iPhone Dock System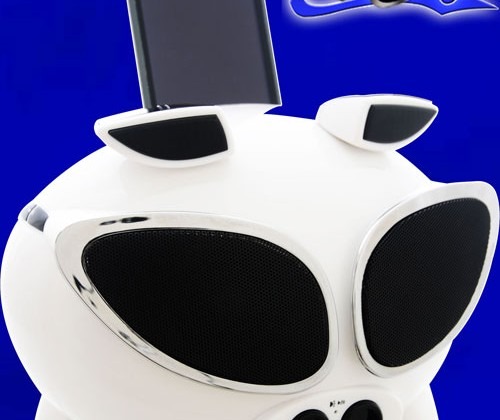 Speakal makes all sorts of crazy docks for your iPod and iPhone and the latest one is a revamped version of the iPig we saw back in 2008 called the Cool iPig. The Cool iPig is more oval than the round iPig was and has eyes that are slanted. It looks a bit like aliens stopped abducting livestock and started mating with it.
The pigs snout has the controls for playing and pausing the tracks and those eyes are the speakers. The docking section on top of the Cool iPig will dock and charge the iPhone 4 and other iPhone devices as well as dockable iPods. The controls on top of the pig are motion sensing for volume and skipping tracks. The Cool iPig has an internal rechargeable battery and that battery can be removed. It will last for eight hours at a time so you can rock with your iPig outdoors away from an outlet.
The Cool iPig has a total power output of 23W and is a 2.1 speaker system with a sub and stereo speakers. The internal amp has 15W of power and the Cool iPig uses a bass reflex system. A wireless remote allows you to control the music on your iPhone from across the room. Other input sources can be used with the Cool iPig if they have a 3.5mm output. The introductory price for the Cool iPig is $149.99 and you can pre-order now with a promise of delivery before Christmas.