Sparrow for iPhone released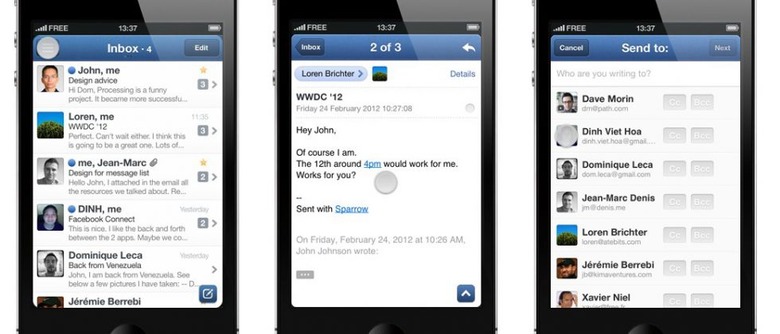 Popular Mac mail app Sparrow has jumped to the iPhone, promising a more streamlined way of checking your Gmail, iCloud and other accounts. Navigated by swipes and gestures, the app stacks virtual layers of inboxes, folders and messages, and flicks through threaded conversations using up and down swipes.
There's also a faster way of emailing your most frequent contacts, with those you most commonly write to automatically presented as possible recipients (or as possibilities for the Cc or Bcc fields) in what Sparrow refers to as the "smart contact list." It's also possible to take a photo directly from Sparrow and attach it.
Sparrow for iPhone supports Gmail, iCloud, MobileMe, AOL, Yahoo and any custom IMAP mail account, though it's worth noting that POP support isn't present. Starred messages, archive support and whole conversation deletion are also options.
One potential deal-breaker is the absence of push email. Sparrow says that it could either store a copy of user credentials on its servers, which it doesn't want to do for security reasons, or use Apple's background-connectivity API, for which a version of the email app was rejected by the App Store approvals process. The company is hoping Apple changes its mind, much as it did around rejecting apps that duplicate native functionality.
Sparrow for iPhone is available now [iTunes link], priced at $2.99 or £1.99.