SparkPeople Spark Activity Tracker hands-on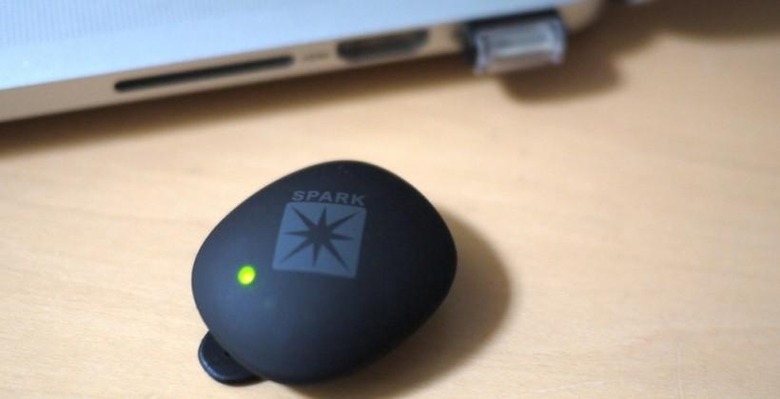 Does the world need another fitness tracker? SparkPeople thinks so, and the company's $59.95 clip-on Spark Activity Tracker is the wireless gadget it hopes to sell. Effectively a rebadged FitLinkxx Pebble tied into SparkPeople's online database of food, as well as health and fitness guides, the Spark hooks up to your PC or Mac via an included USB dongle, offloading your activity data whenever you're in range. Read on for some first impressions.
The Spark tracker itself isn't going to win any awards for aesthetic prowess, but it's compact and sturdy, finished with a soft-touch coating on the pebble-like upper and a tough clip underneath. It's waterproof – down to 100ft – and the non-rechargeable battery lasts for 6-12 months of average use; SparkPeople throws an extra in the box.
The interesting part is the USB dongle. We've seen fitness trackers such as Fitbit use wireless before to synchronize with a server-based log, but SparkPeople uses a proprietary dongle instead, with a roughly 50 foot range.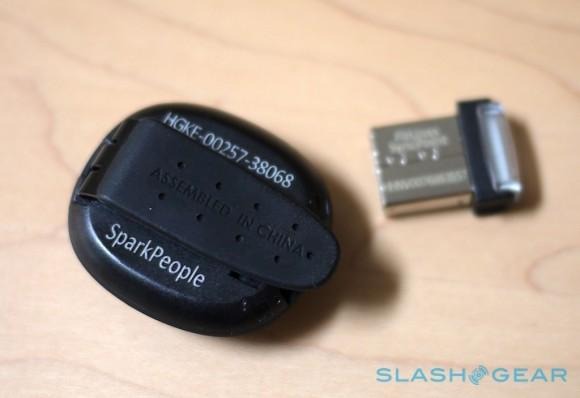 That does at least mean setup is easy: we downloaded the software, installed it and registered a new account in a few minutes, and had the dongle and Spark recognized with no headaches whatsoever. The same can't always be said for Bluetooth or WiFi. For the moment, all account details are viewed in the browser – SparkPeople says there'll be apps for iOS and Android eventually, but they're not available yet – with a fairly busy interface showing steps taken, calories burned, miles travelled, and other stats.
Through the same interface you can set your own individual goals, such as a particular calorie loss target or a number of steps to take. The Spark automatically fires over its latest batch of numbers whenever it's back in range of the USB dongle, or you can manually trigger a sync by tapping five times briskly on its casing.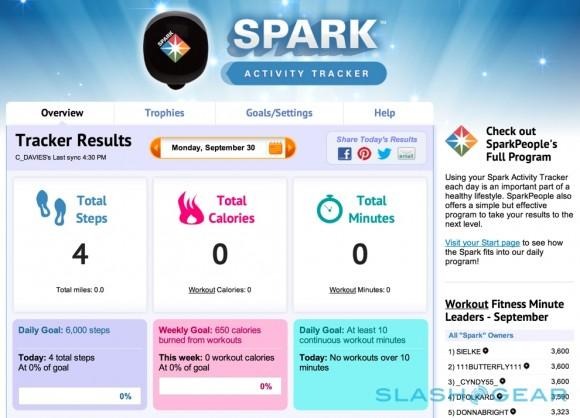 That same gesture is used to wake up the light display on the front, the only real mobile-focused progress indicator you get from the Spark Activity Tracker until the apps arrive. A simple ring of green LEDs show how close you are to your goal.
The absence of real-time sync between tracker and smartphone may turn off some, but the Spark Activity Tracker is considerably cheaper than rivals from Jawbone, Nike, and Fuelband. We'll be wearing it around to see how it performs over the next week or so.