SpaceX's new Falcon 9 just landed perfectly, and it's a game-changer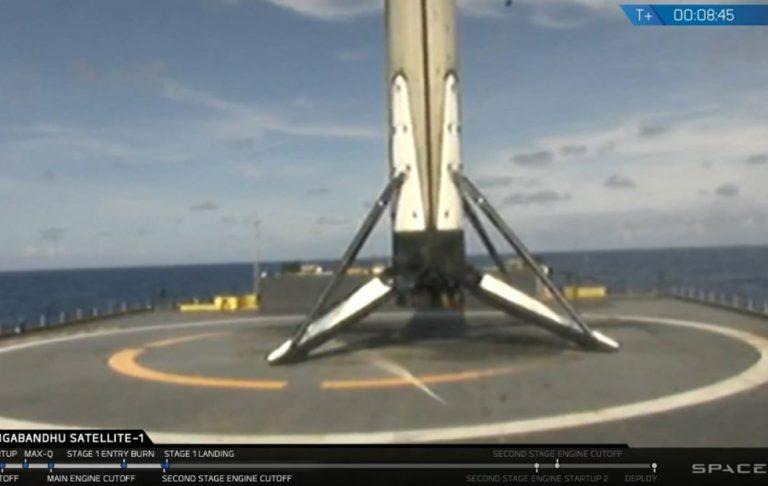 SpaceX has successfully landed its Falcon 9 Block 5, the rocket that will used to transport astronauts to the International Space Station. This is the most powerful version of the private space company's Falcon 9 rocket, one featuring upgrades that enhance its reusability. Today's success marks the first time this rocket has been launched and successfully landed.
READ: SpaceX live: Falcon 9 Block 5 launch time
The Falcon 9 Block 5 was launched for the Bangabandhu Satellite-1 Mission, which took place from NASA's Kennedy Space Center in Florida. The satellite was successfully deployed into geostationary transfer orbit; the Block 5, meanwhile, landed on SpaceX's "Of Course I Still Love You" droneship in the Atlantic.
Missed the event during launch? You can watch the entire thing in SpaceX's video below.
SpaceX provided viewers with brief play-by-play updates on its Twitter account where it eventually shared an image (above) of the first stage successfully touching down on the droneship.
Falcon 9 Block 5 is designed to handle 10 or more flights with only "very limited refurbishment," according to SpaceX, this being part of the company's "rapid reusability and extremely high reliability" goals. The company will take apart the rocket now that it has landed; the inspection will confirm that SpaceX doesn't have it take it apart after every launch.
The Falcon 9 will eventually transport astronauts to the ISS under NASA's Commercial Crew Program. Before transporting humans, however, SpaceX will have to launch the rocket seven or more times.