SpaceX live: Falcon 9 Block 5 launch time [UPDATE]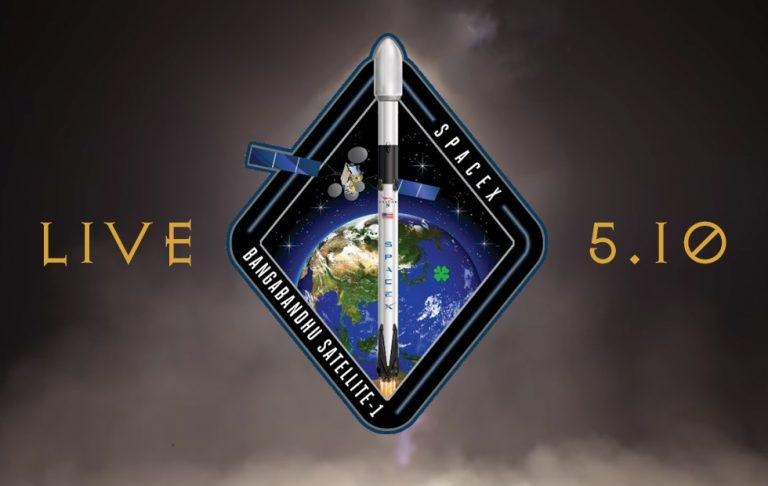 UPDATE: At approximately 3:20 MP Eastern Time it was announced that the SpaceX Falcon 9 Block 5 debut launch was rescheduled. At the time of this update, the rescheduled time for liftoff was aimed at 5:47 PM Eastern Time (that's 21:47 GMT). This event will take place at NASA's Kennedy Space Center in Florida and will hopefully blast the Bangabandhu 1 communications satellite into space this afternoon.
SpaceX as courrier
The Bangabandhu 1 communications satellite was announced as part of the latest SpaceX payload for the first ever SpaceX Falcon 9 Block 5 liftoff. This maiden attempt at liftoff – and landing – was originally scheduled for 4:12 PM Eastern Time (20:12 GMT) on May 10th, 2018. SpaceX was commissioned by the government of Bangladesh to ferry the Bangabandhu 1 into space earlier this year.
The takeoff will be neat – the landing will be even neater than neat. Landing will be aimed at one of SpaceX's drone ships off the coast of Florida not far from the site of liftoff. This wont be the first time SpaceX attempted a successful landing (and subsequent re-use) of a rocket, but it will be the first attempt by a Falcon 9 Block 5 as such.
In the video above you'll find the takeoff live at approximately 4:47 PM Central Time on May 10th, 2018. If you're reading this in the future, the same video should provide access to the entire event as originally recorded live. Below you'll find a chart showing the approximate schedule for this liftoff once it's been approved.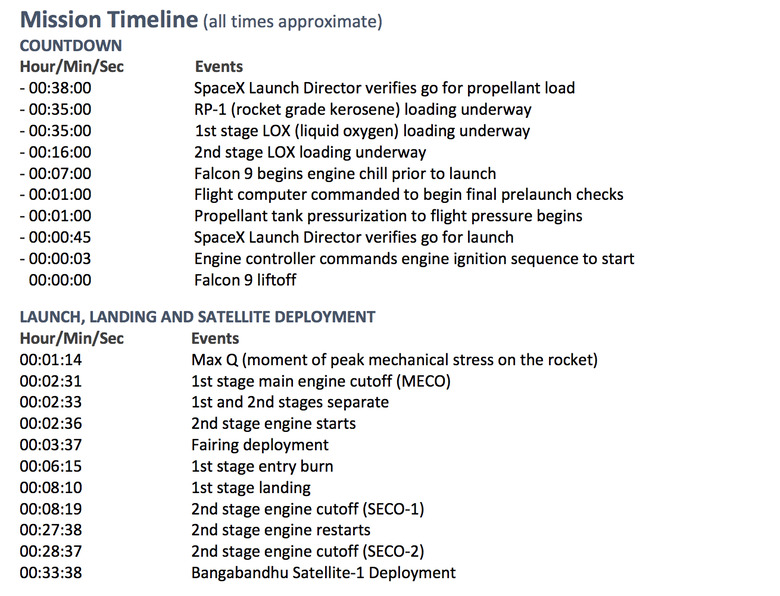 According to SpaceX, Bangabandhu Satellite-1 will be deployed into a geostationary transfer orbit (GTO) approximately 33 minutes after launch. A backup window for launch opens at the same site on Friday, the 11th of May, at 4:14 PM Eastern Time, closing 2-hours thereafter.
"The Bangabandhu Satellite-1 mission will be the first to utilize Falcon 9 Block 5, the final substantial upgrade to SpaceX's Falcon 9 launch vehicle," said a SpaceX representative. "Falcon 9 Block 5 is designed to be capable of 10 or more flights with very limited refurbishment as SpaceX continues to strive for rapid reusability and extremely high reliability."
What is Bangabandhu Satellite-1?
Bangabandhu Satellite-1 was created to be the very first Bangladeshi geostationary communications satellite. This satellite was created to provide direct-to-home (DTH) services for Bangladesh. It'll also provide video distribution and very small aperture terminal (VSAT) communications across the country [that's the country of Bangladesh, to be clear, not the USA - CB!].
FUN FACTS: With this launch, Bangladesh will be the 57th country with a geostationary communication satellite in space, orbiting our Earth. The orbital slot 119.1 degrees east longitude was purchased by Bangladesh from the Russian satellite company Intersputnik all the way back in January of 2015 for a cool $28 million USD.
And who, you might wonder to yourself, keeps track of which country owns which orbit? Why, that's the International Telecommunication Union (ITU), the United Nations specialized agency for information and communication technologies. Together, members of the ITU allocate and track global radio spectrum and satellite orbits in order to "connect all the world's people."