SpaceX's latest reusable rocket test sends Grasshopper 131 feet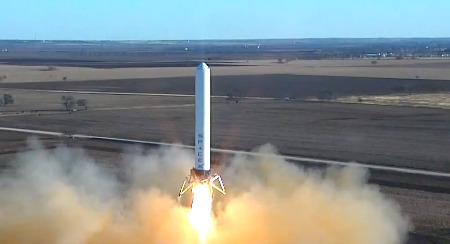 Back in September, SpaceX posted a short video showing a glimpse of its reusable rocket, the Grasshopper. The company has released a new video of the rocket, this time sending it to its latest record of 131 feet. While not quite the two miles that was hinted, it was still an impressive distance. Check out the video of it after the jump.
For now, rockets make a crash landing into the ocean, never to be used again. Elon Musk's SpaceX wants to shirk that reality, however, and utilize rockets that both take off and land vertically, allowing them to be reused. The Grasshopper has been shown off a total of three times now by SpaceX, the latest of which you can see in the video below.
While the rocket didn't hit its target of at least a few hundred feet, it did improve over the last time we saw it. The rocket hovers in the air for a bit before gliding back down into place; the first time around, it did little more than bounce briefly into the air. The test was conducted in McGregor, Texas, on December 17, and was followed up by an announcement tweet by Elon Musk on Twitter.
This comes after SpaceX managed to score a contract with the United States Air Force on December 6. With the contract, SpaceX will get the chance to run two missions, during which it will get to demonstrate its space vehicles as part of the EELV program. The missions are slated to take place in 2014 and 2015.
[via TPM]