SpaceX Mars mission event: all the important details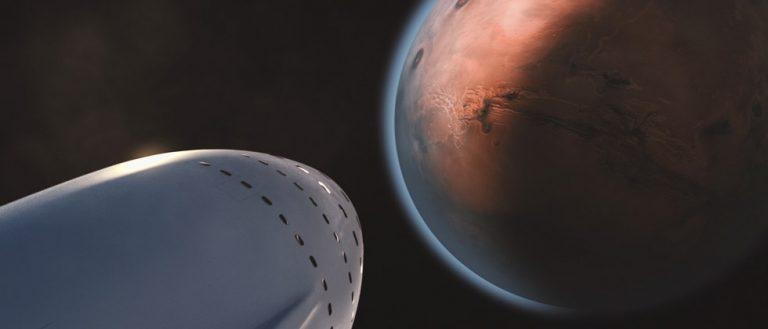 Today Elon Musk and his group of space magicians have explained how they'll make it possible for the everyday citizens to reach Mars in our lifetime. What we're doing here is running down some of the key details – all the important details, that is – for the common citizen. The citizen that plans on going to Mars as soon as possible, that is. The first item on our list that we'll be chopping up is the SpaceX timeline. It's ambitious, but very much within the realm of possibility for this forward-thinking company.
In the year 2016, SpaceX is working on their Falcon Heavy spacecraft, developing their Dragon crew, and working on both Propulsion Development and Structures Development. Crew work should be complete by the end of 2017, while Falcon Heavy work should be done in early 2017.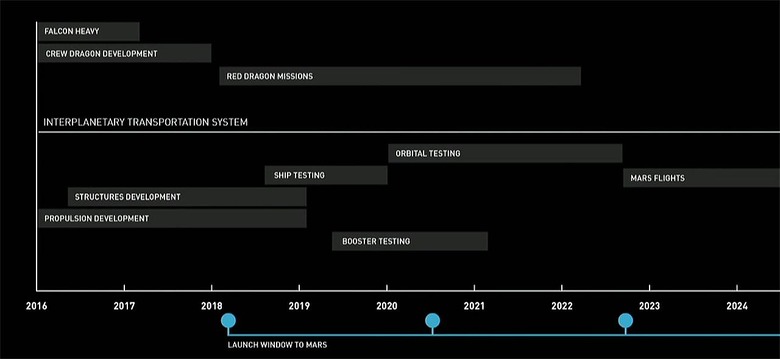 Red Dragon Missions begin in early 2018, while ship testing begins in late 2018. Ship testing should be complete by 2020, at which time Orbital Testing will begin. Booster Testing begins in the 2nd quarter of 2019 and should be complete by Q1 of 2021. Red Dragon Missions should be complete in early 2022, while Orbital Testing should be complete in the third quarter of that same year.
Immediately after Orbital Testing is complete, Mars Flights can begin.
To be clear, SpaceX plans on beginning to fly to Mars in the year 2022. If you'll have a peek at our feature "You're Going to Mars, I Went to NASA", you'll find that NASA is aiming their Mars mission at taking off in the 2030s.
To do this, Musk said, "whatever system is designed, either by SpaceX or anyone, these are the four features that need to be addressed."
• Full Reusability
• Refilling in Orbit
• Propellant Production on Mars
• Right Propellant
"What you saw there," said Musk, "is really quite close to what we'll actually build." Musk was referring to the video shown at the press conference on this Mars mission (also seen immediately above this text).
The Mars Mission ship made by SpaceX will fit 100 people, at least, in its pressurized section as well as luggage and cargo. Musk suggested that they may scale this up to reach a 200-passenger load.
Musk says that with their system alone, it will take between 40 and 100 years to create a self-sustaining civilization on Mars.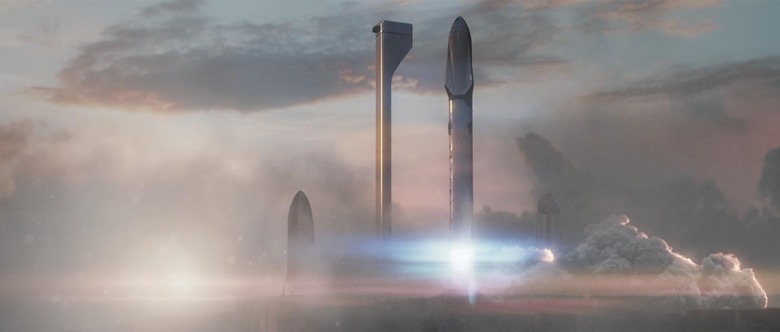 Each Mars Vehicle, as they're calling it, will be reusable.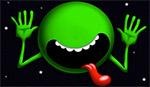 It will be able to take off and land, just like a proper science fiction spaceship. Each vehicle will utilize 42 Raptor engines.
That can't be coincidence.
UPDATE: The first spaceship in this Mars Vehicle line will be named "Heart of Gold" – so yeah, no coincidence at all.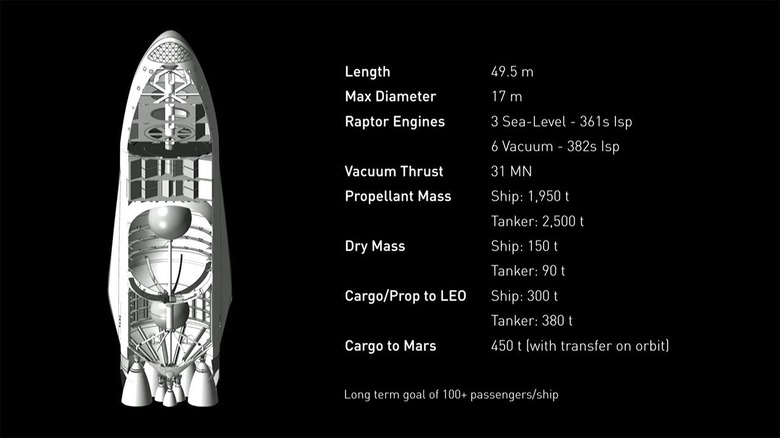 ABOVE: The vehicle.
BELOW: The 42 engines.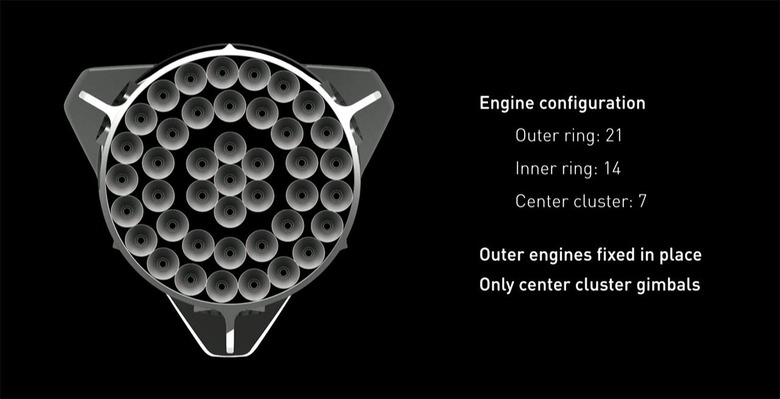 These engines will allow some amount of steering, and estimated Mars transit time is between 30 and 80 days. Astounding!
Each vehicle will be 49.5 meters long and 17 meters in diameter – that's in its current planned configuration. Changes may occur, of course.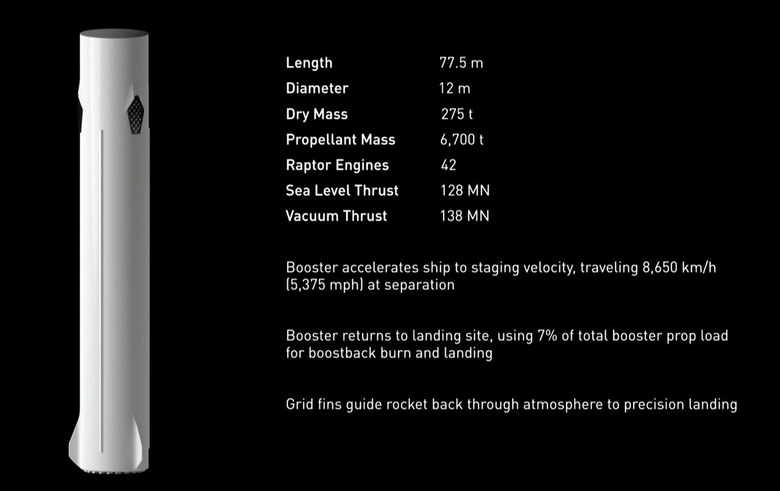 Musk estimates that it'll cost around $140,000 USD per ton (weight-wise) for a trip from Earth to Mars.
"Ultimately," said Musk, "this is going to be a huge public-private partnership."
Above is a collection of images shared by SpaceX which depict their Mars mission and the future of SpaceX with direct reference to Mars.
In what may be the simplest mission statement ever written, SpaceX presents the following: "SpaceX was founded under the belief that a future where humanity is out exploring the stars is fundamentally more exciting than one where we are not. Today SpaceX is actively developing the technologies to make this possible, with the ultimate goal of enabling human life on Mars."
Above is the full live stream of the Mars Mission event as it took place on September 27th, 2016. This event was live streamed around the world by SpaceX through YouTube.
Below is the first large-release presentation from SpaceX on Mars. This was first released back in July of 2013.
Stick around SlashGear's SpaceX tag portal for more.
We're going to Mars!