SpaceX Falcon rocket crash landed on drone boat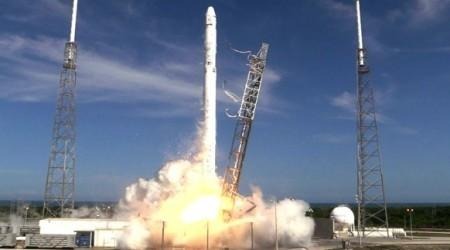 Elon Musk's SpaceX group finally launched is mission CRS-6. The rocket launched, but it didn't nail the landing. The Falcon 9 was supposed to land on an autonomous barge that was anchored out in the Atlantic Ocean. The unmanned rocket technically landed on the boat, but the strong impact destroyed the rocket, negating the goal of a reusable rocket.
Today's crash made the rocket inoperable for future rounds, but it is still a big step in the right direction. With each crash, and there have been a few, Space X is getting closer to vertical landing a rocket and preserving its re-usability.
This mission was plagued with foul weather during the launch window, which was very short because both the orbit of the earth and the ISS needed to sync for a successful delivery mission.
For now, all we have are these photos tweeted from the crash site, plus a short video on Vine with the Falcon 9 rocket landing on the "Just Read the Instructions" barge. Previous footage is from a January landing when the rocket hit the drone barge at an odd angle and exploded upon impact. According to Musk, "All we have right now is low frame rate video (basically pictures). Normal video will be posted when ship returns to port in a few days."
Until then, enjoy some lovely Ultra HD 4K footage of previous SpaceX Launches. (Remember use the settings toggle to engage 4K, or use lower 1080 HD if your internet connection isn't up to speed.)