SpaceX Dragon Capsule To Make Third Trip To ISS On March 1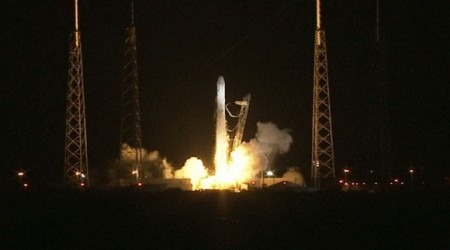 It seems like only yesterday when the SpaceX Dragon capsule launched its way to the International Space Station for the first time back in May, and now it's reporting for duty yet again for the third time. NASA has announced that the capsule will be planned to launch on March 1 to bring even more supplies on board the ISS, as well as take back some materials when the capsule returns to Earth.
SpaceX is the work of Tesla Motors founder Elon Musk, who has been in the news himself recently over a debacle with the Model S car and the New York Times. However, he'll soon be focusing his energy on the third launch of the Dragon capsule in less than a year, which will dock to the ISS, the first private company to accomplish such a feat.
While three times in less than a year may seem like a lot of space flights, SpaceX has signed an agreement with NASA to do 12 re-supply missions to the ISS using the Dragon capsule. The spacecraft itself is a reusable capsule that is able to be reused over and over again many times before SpaceX will have to replace it.
After the launch, and once the capsule starts to get closer to the ISS, astronauts Kevin Ford and Tom Marshburn will use the station's robotic arm to catch the capsule and bring it in for docking. The capsule is planned to take over 2,300 pounds of experiment samples and equipment back to Earth on March 25.