Google may have just recently "graduated" Project Tango from its incubation at its ATAP arm, but the future of research-oriented tablet and phone still hangs in the balance. In the meantime, however, developers and researchers are still tinkering with the few devices that are already out in the wild. But what exactly can one do with Tango's 3D sensing capabilities? Well, apparently, you can use it to draw in full 3D space, like what this new Space Sketchr app tries to demonstrate.
Project Tango aimed to help develop the area of computer visualization, letting computers see the world in 3D the way we do. To accomplish this, it uses a range of cameras and sensors that convey a sense of depth and motion. But almost a year after it was first revealed, we've barely seen the full potential of what Project Tango can offer. Fortunately, that hasn't discouraged some from taking a few creative directions.
Space Sketchr is almost like any sketching app, except for two differences. First, instead of regular brushes, you "paint" mostly with geometric shapes and particles. But the most important difference is that you are painting in 3D. Not just in a virtual 3D environment, mind you. You paint in the real 3D world but through the "eyes" of your Tango mobile device. You put, say, a shape or pattern at one point and it hangs there in real-world 3D space. You can walk around it to view it in different angles. You can even paint while walking, leaving a trail of objects in your wake.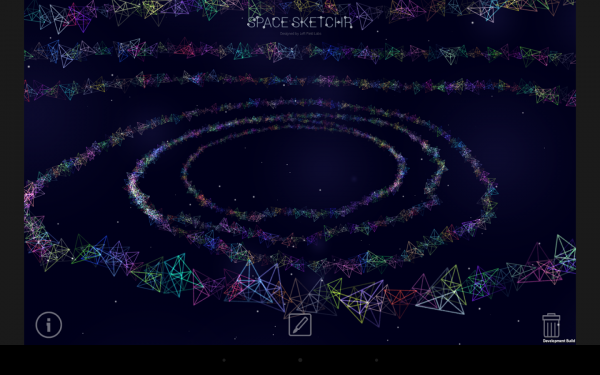 They say, pictures speak louder than words, so here's a whole video of it:
This little demo could inspire a few creative uses. Imagine partnering this with some VR goggles, and perhaps some VR gloves. Project Tango could provide the 3D sensing functionality while VR toys provide more immersive viewing and manipulation. Space Sketchr is available for free on Google Play Store but naturally you can only install and use it if you already own a Project Tango device.
VIA: Gizmodo