Space Shuttle Discovery Comes To Rest At The Smithsonian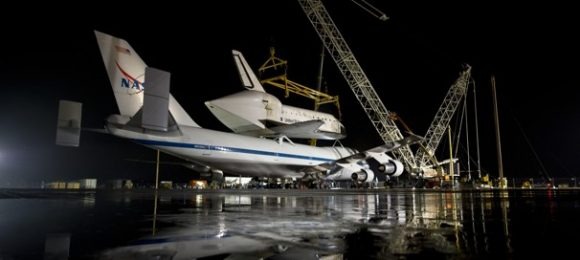 The space shuttle Discovery has finally come to rest in what may be the last location it ever travels to – the Smithsonian's National Air and Space Museum annex in northern Virginia. This shuttle has been covered by the news so many times in the past week that it's quite unlikely that you've not already seen it in one way or another – likely on the gigantic Boeing 747 that carried it on its back across the country. This shuttle is known as the world's most traveled spaceship and will essentially represent NASA's 30-year space shuttle program as it sits in its show space near the Dulles International Airport for the foreseeable future.
Astronauts such as former Senator John Glenn will assist in ushering the shuttle in to its new resting spot, as the full ceremony for this shuttle will take place soon with visitors from around the world coming to see it in its new home. The shuttle will be displayed as it appears in photos now, as if it's just landed – payload doors closed. Smithsonian curator Valerie Neal spoke on why the shuttle wasn't going to be a hands-on sort of exhibit:
"We don't permit that here because we treat all of the aircraft and spacecraft as artifacts, not as exhibit props. To make the shuttle accessible to the public, we would have to damage it, and we just do not want to do that." – Neal
One of Discovery's last flights via SpaceVidCast
Instead, this display will have 360 degree interactive computer-screen interfaces that people can look at and touch, and there will be a companion exhibit with a replica of the interior of the ship that people can enter as well. The whole story of the shuttle is what the Smithsonian aims to present here. This shuttle has been to space and back nearly 40 times in its fabulous career, the look of the ship certainly reflecting that. The image you see above shows the shuttle after it landed in Virginia aboard its host plane, photographed by Bill Ingalls.
"We wanted it to look like it had been to space and back 39 times, and it does. ... It is really the story of the whole 30-year space shuttle program. [This] shuttle made it possible to diversify the astronaut corps." – Neal
Discovery being transported over Cap Canaveral via Herrea
Will you be visiting this or one of the other retired NASA shuttles in the near future? You've also got the choice of the space shuttle Atlantis which will be at the Kennedy Space Center visitors complex soon (for a limited time) and the space shuttle Endeavour which will be shown somewhere in Los Angeles – we'll know soon!
[via Washington Post]