Soyuz delivers new ISS crew in fastest shuttling yet
The latest arrivals to the International Space Station docked in record time, NASA has confirmed, with the Express Soyuz Flight safely opening hatches at just past midnight this morning. Expedition 36 – which brought three engineers from NASA, the Russian Federal Space Agency, and the European Space Agency – took under six hours to reach the orbiting research platform, having taken off in the evening of Tuesday, May 28. Their arrival brings the ISS' crew back up to six, following the departure earlier this month of Commander Chris Hadfield and his two colleagues.
The current compliment of orbiting engineers now includes NASA astronaut Karen Nyberg, Russian Federal Space Agency cosmonaut Fyodor Yurchikhin and European Space Agency (ESA) astronaut Luca Parmitano, as well as Flight Engineer Chris Cassidy of NASA and Commander Pavel Vinogradov and Flight Engineer Alexander Misurkin of Russian Federal Space Agency, who made it to the ISS on March 28. The latter three will remain until September, before returning to Earth.
Soyuz docking with ISS:
There's plenty to be done in the intervening period. Five spacewalks are planned to ready the ISS for the Russian Multipurpose Module to be installed in December, with another to take the Olympic torch outside on November 9th. The sextet will also be responsible for ISS-side management of various supply vessels expected over the coming 5.5 months, which will include cargo hauls from the ESA, Russia, and Japan.
That's in addition to the ongoing scientific experiment load ongoing on the ISS, which will be added to with a new project investigating how longer periods in space might impact bone density. It's also expected to also help understand osteoporosis for those back on Earth.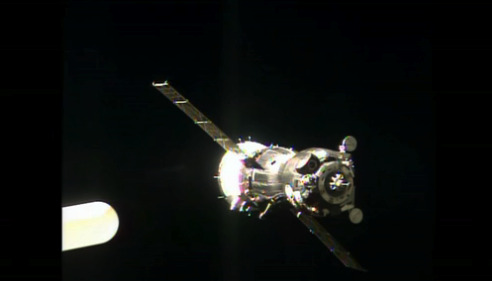 What remains to be seen, however, is whether any of the six crewmembers can engage with the public back on Earth in the same way that Commander Hadfield did. The Canadian astronaut made a name for himself with his outreach efforts, deftly using social media and YouTube to stoke interest in science and technology.
Even Hadfield's closing days on the space station were notable, with the engineer recording a special version of David Bowie's Space Oddity complete with a full music video (albeit with some assistance from people back home).