Soyea Z5 Atom MID packs 3G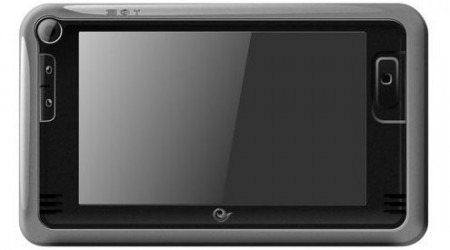 If you've seen one Chinese MID, the saying goes, you've seen them all, and yet we still keep digging through the dross in the hope of turning up something shiny and loveable.  The latest glimmer amongst the grubs is the Soyea Z5, an Atom Z515 1.2GHz based ultraportable with a 5-inch WVGA touchscreen, 1GB of RAM, integrated 3G and a choice of Windows XP or Linux.
The whole thing measures 6.1 x 3.7 x 0.89 inches and weighs 12.3oz, and squeezes in Bluetooth 2.0+EDR, WiFi b/g, a microSD card slot, mini USB, VGA stereo speakers and a microphone.  In fact accommodating all that only leaves space for an 8GB SSD, which seems on the meager side, but you do get an optical mouse to diddle while you weep.
Somewhat unusually for a Chinese gadget of this sort is the price, which currently – on Amazon China – is 5999 yuan ($878).  We're used to seeing MIDs vaunted at half that price, but then again they seldom actually appear for sale; perhaps this higher pricing is a sign that Soyea actually might ship some of these, should buyers be brave enough.
[via Pocketables]