South Park streaming with Chromecast soon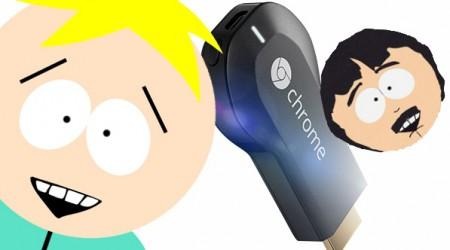 The first thing you should be saying when you hear that Key and Peel are coming to Chromecast is NOOICE. Viacom has announced that the Comedy Central app will be bringing their most highly-rated comedy series to the Chromecast streaming universe very, very soon. This includes South Park, Key & Peel, and a whole lot more. Both the Nickelodeon app and the Sesame Street Go app are coming to – edit: already here for – the Chromecast as well!
Chromecast now supports a whole horde of apps, including – but not limited to – YouTube, Netflix, Hulu Plus, HBO Go, Google Play Movies & TV, VUDU, Crackle, Starz Play, Watch ABC, AirCast, PlayOn, and Video Web Downloader. And those are only a small selection from the full video set available to Chromecast now.
Chromecast also supports a wide collection of games and game-based apps. Monopoly Dash, Just Dance Now, Wheel of Fortune, and Twitch are all included. GamingGast, UnoCast, and Scrabble Blitz are included as well.
The Chromecast dongle is able to show off your videos and photos from your phone. You can use Plex, PostTV, Google+, Chrome (the web browser), AllCast, Avia, and JustCast to make your media move – easy as pie.
Google is making big moves with app developers to push Chromecast for this holiday season. The Chromecast device itself still costs $35 from Google right this minute – it's also out in a variety of retailers, and comes in a box that'll fit right in a Christmas stocking nicely. Nooice.