SoundTracking music sharing service gets Android, Spotify, RDIO integration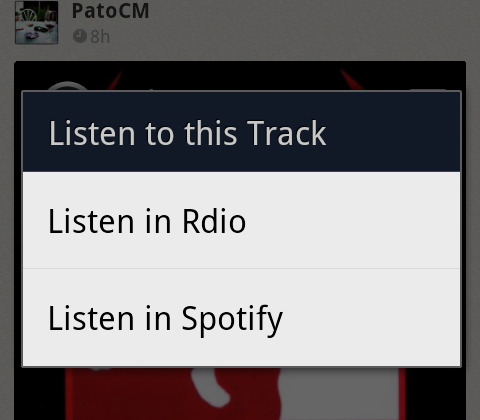 If you're in to the whole sharing of your entire life, no holding back, and you love music, there's a pretty good chance you're going to like the app known as SoundTracking — and with their announcement today that not only would they be releasing an Android version of the app, but instant integration with both RDIO and Spotify, you'll be well on your way to a full share and listen experience in no time. What you're working with is an app that was originally just for iOS, but now works perfectly well in the Android world. Snap up a sound byte of the song your listening to to identify it, share it via Twitter or Facebook, and your friends will be able to listen to it instantly – it's as simple as that!
Of course if your pals don't use RDIO or Spotify, they'll just have to listen to the sample version of the song you've shared via their own interface, but still, cool beans! Have a peek at the app right this second over at the Android Market listing for SoundTracking and download thusly. You'll also find that it's a neat way to find new music by seeing covers of albums as they've got a trending wall that shows up by image – tap in and connect! This SoundTracking ecosystem has 1 million users on it already and counting – find your iPhone friends right out of the box.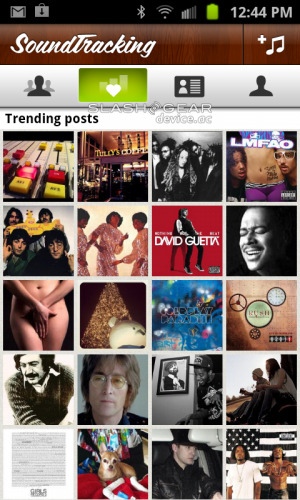 Then for those of you hoping for more Spotify app connections in the near future, head back to our hands-on with the Beta version of Spotify Platform, that being the desktop version of Spotify that'll now allow you to work with Rolling Stone, Moodagent, and more in the near future. I heard you liked Spotify so I put some Spotify in your Spotify, that's what they're saying here. Have a peek at that, download the app above, and have a great musical day!