Soundmatters Dash7 portable Bluetooth speaker to debut at CES 2013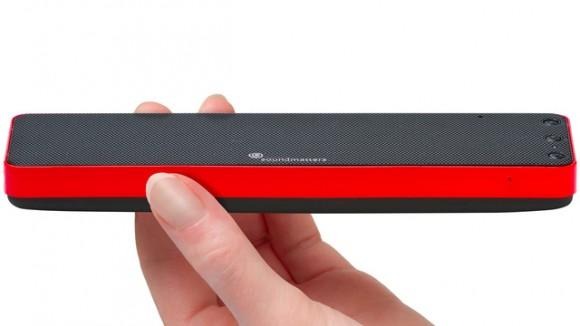 We're just a few days away from the start of CES 2013, and we can barely contain or excitement. That's because this nifty little speaker will be making an appearance on the show floor next week. It's called the Dash7 from Soundmatters, and it's a small, portable Bluetooth speaker about the size of a typical smartphone.
The speaker boasts pristine omnidirectional sound and is also bundled with an angled stand for direct on-axis listening. It weighs just over 7 ounces, and it stands about 0.75-inches tall. Essentially, it's designed to be nestled below your smartphone or tablet without restricting the view.
Plus, the Dash7 is incredibly slim for a speaker, making it easy to slip inside of a pocket or a laptop bag. Like the Jawbone Jambox, the Dash7 uses some clever tricks to boost its sound, mostly a tweeter/woofer combo and a moving battery for improved bass. It certainly can't compete with a dedicated home stereo, but it's designed to improve the sound coming from your smartphone or tablet anyway.
The Dash7 will be rolling out in late January and early February in a handful of colors, including red, white, black, and silver, and if you think this is the right Bluetooth speaker for you, you better come prepared with a fat wallet, since pre-ordering one now will set you back $219, and it comes with a $249 MSRP.