SoundMatters Dash 7 portable Bluetooth speaker hands-on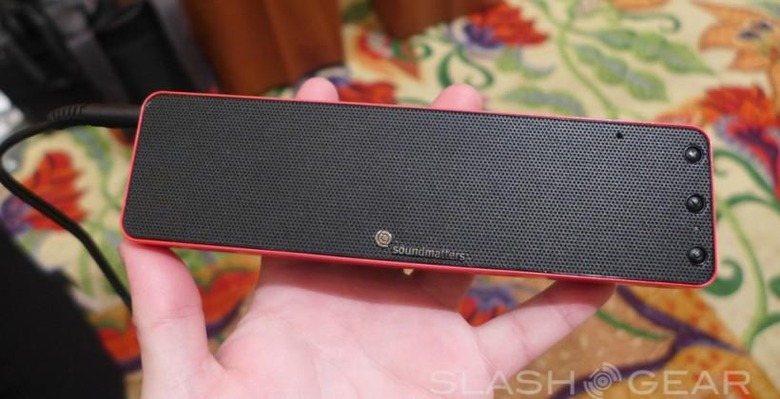 The past few days we've seen countless little Bluetooth speakers, JAMBOX look alikes, and various speakers but the new SoundMatters Dash 7 packs a powerful punch for such a small speaker. First mentioned earlier this year their ultra portable Bluetooth speaker was on display here at CES 2013 for ShowStoppers so we snagged a few photos.
The speaker boasts pristine omnidirectional sound for such a small device. It's also bundled with an angled stand for directional listening. The stands design mimics an Apple smart case too. It weighs just over 7 ounces so is extremely lightweight, and stands only 0.75-inches tall. Essentially, it's designed to be nestled below your smartphone or tablet without restricting the view.
As you can see from our images below, the device is impressively sleek and we can confirm it's rather light and ultra portable. Being able to lightly toss it nearly anywhere your smartphone or iPad goes without wasting much more space makes it quite versatile compared to some of their competition. The front face has the power button and led, along with a volume up/down dedicated button for ease of use. Around to the side is a 3.5mm audio out if you opt not to use Bluetooth, as well as a sub out feature if you really want to push out some bass.
Just like the Jawbone JAMBOX the Dash 7 uses a woofer/tweeter setup for sound, as well as a floating and moving battery to improve bass response. This makes the sound much better, louder, and crisper than you'd expect from such a tiny little speaker. Colors include red, white, black, and silver and the SoundMatters Dash 7 will hit the streets in February for around $219. Pretty big price, but that brings big performance in a small package.