SoundFreaq SFQ-01A Review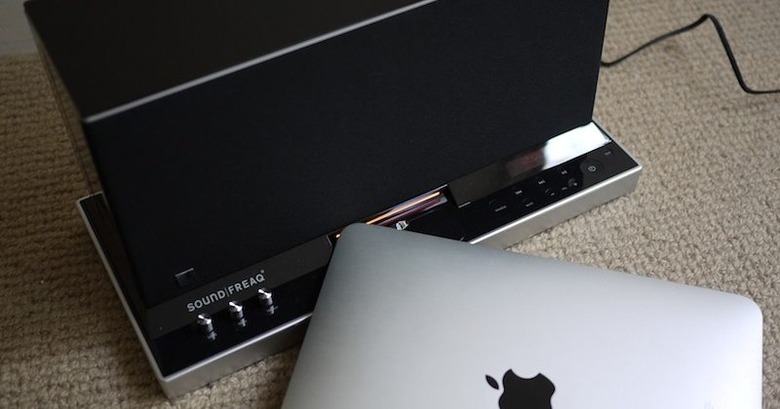 We first came across SoundFreaq back at ShowStoppers at IFA 2010, where the company had brought their first iPod speaker-dock, the SFQ-01A, along to meet the crowded competition. Leaving nothing to chance, SoundFreaq have prepared a double-punch: the SFQ-01A itself, a monolithic block of a speaker system, and a companion Bluetooth app for the iPad that's a free download from the App Store. Knock-out punch or freak of nature? Check out the full SlashGear review after the cut.
There's no missing the SFQ-01A, a slab-sided chunk of high-gloss black plastic with a narrow control pad and discrete orange side lighting. At £199.99/$199.99 it's not an inexpensive dock, and we wish some of that had shown up in more expensive plastics; it's not exactly lightweight, but then neither does it have the heft of some similarly-priced units. It's also a dust and fingerprint magnet. In the box, SoundFreaq include the SFQ-01A itself, a small IR remote, two interchangeable dock adapters (for the original iPhone and iPhone 3G), an AC adapter (and, with our unit at least, both UK and Continental Europe power cables) and a 3.5mm stereo audio cable. There's also some easy to follow documentation, printed on too-big-to-miss sheets of cardboard.
Controls are limited to the lower front panel, with three silver knobs on the far left – for controlling treble, bass and SoundFreaq's own UQ3 audio processing system. On the right, there's an array of concave, touch-sensitive buttons for source, track skip, play/pause, volume, mute, power and Bluetooth pairing, underneath a small, orange LCD display. In-between there's the dock itself, with a plastic cover if you're not planning to actually slot in your iPhone or iPod touch. On the back there's the power port and a 3.5mm aux-in input, while on the right side is a small door to hide the remote (a magnet keeps it in place).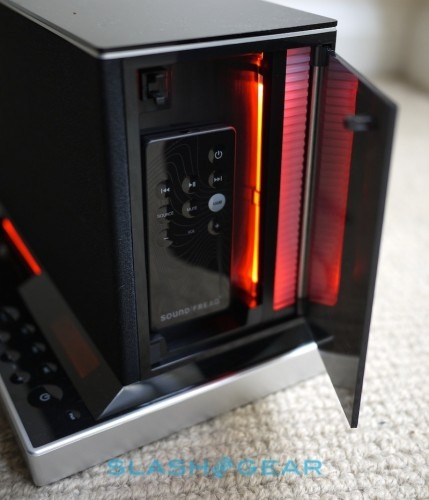 Hitting the source button cycles through the three options: iPod (for a docked model), Bluetooth (for wireless streaming, such as from an iPad) and Aux-In, for any other external source. The remote basically duplicates the panel buttons. SoundFreaq's Bluetooth doesn't just work with the iPad: any A2DP-compliant Bluetooth device – whether your notebook, smartphone or otherwise – should be able to pair with it and treat it as an external source, though since there's no microphone it won't work as a speakerphone. We'd have liked to have seen an FM radio, at least (WiFi radio would've been even better), as SoundFreaq said there would be back at IFA (Update: According to SoundFreaq, the US version of the SFQ-01A will have an FM radio, while the European model will not). When more than one device has paired via Bluetooth, it's first-come, first-serve as to who gets to stream. There's no multipoint support for simultaneous connections.
The iPad's standard music app will happily stream to the SFQ-01A wirelessly, though while the play/pause button on the dock's control panel worked as expected, the track-skip buttons did not. However, there's also the special SoundFreaq app in the App Store; this is a basic media player with full interaction between the SFQ-01A buttons and the app UI. You can queue up tracks from your music catalog into custom playlists, though the UI itself feels a little cramped: the navigation box shows just 7 tracks at a time, despite the amount of screen the iPad has to offer. Still, you can view tracks by artist, song and album, among other things, as well as import playlists from elsewhere.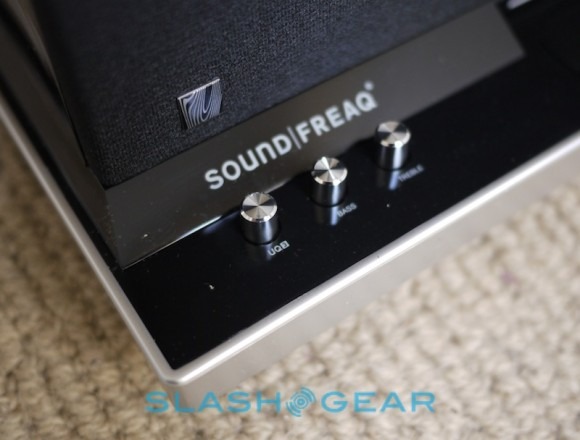 Audio quality is decent, particularly when the UQ3 system is turned off. Without it, even with some diligent treble/bass tweaking, audio sounded relatively anaemic, especially when streamed via Bluetooth. With it, music is fuller and more rounded, and the SFQ-01A can be cranked up to reasonable levels before distorting. With no separate subwoofer this obviously isn't the speaker-dock for dedicated bass lovers, but it still manages to sound reasonably impressive.
The SFQ-01A certainly does what it promises to, but we can't help but feel that SoundFreaq has missed an opportunity with its custom iPad app. Some sort of internet radio streaming would've given it a real edge over rival speaker docks; as it stands, the only thing you gain over Apple's own Music app is support for the SFQ-01A's buttons, but you give up Genius playlists and background playback (exit the SoundFreaq app and the music stops, though we imagine the company will address that when iOS 4.2 arrives with its multitasking support).
Still, given the more readily-modified nature of software, that's something SoundFreaq could well add in future iterations of their app. The iPod speaker dock market is a crowded one, and while the SFQ-01A's looks certainly help distinguish it, the unique selling points aren't quite mature enough to push the SoundFreaq conclusively ahead of the pack. If the company can deliver on software updates then that would go a long way to differentiate the SFQ-01A and make it a recommended buy.