Sorry, monkey photographers, you can't hold copyright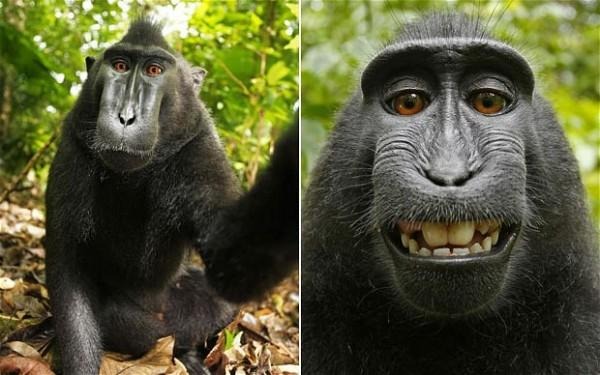 The controversy over the monkey selfie has forced the US Copyright Office to step in, clarifying that no photo taken by an animal – even a cute one like this Indonesian black macaque – can be registered. The smiling simian had borrowed photographer David Slater's camera back in 2011 for an impromptu shoot, images from which ended up on Wikimedia Commons, which the British traveler contested on copyright grounds.
Wikimedia, however, countered that Slater hadn't taken the photo, but that the monkey did, and as such he didn't hold the copyright.
Instead, they were listed as being public-domain, and taken by a "non-human animal". Slater threatened legal action, arguing that the images he'd assisted in the creation of – simply by being in Indonesia at the time with his equipment – had been widely circulated and he deserved financial compensation.
Unfortunately for the photographer, the US Copyright Office does't feel the same way. In a new update to its regulations, it has clarified exactly what can and can't register an image for copyright, and monkeys aren't on the approved list.
"The Office will not register works produced by nature, animals or plants. Likewise, the office cannot register a work purportedly created by divine or supernatural beings, although the office may register a work where the application or the deposit copy(ies) state that the work was inspired by a divine spirit" US Copyright Office, Library of Congress
The regulations also count out photos taken by other animals, so shrews, badgers, and camels are out of luck, as are images snapped by gods. However, if you've claimed divine inspiration but it was your finger on the shutter, you're probably okay.
Slater, meanwhile, has begun offering free prints of the monkey selfie, in the hope of raising funds to support the endangered black macaque itself.
SOURCE US Copyright Office [pdf]
MORE David Slater