Sony's Invincible Speakers Get Shown Off, Along With iPod Dockable Set As Well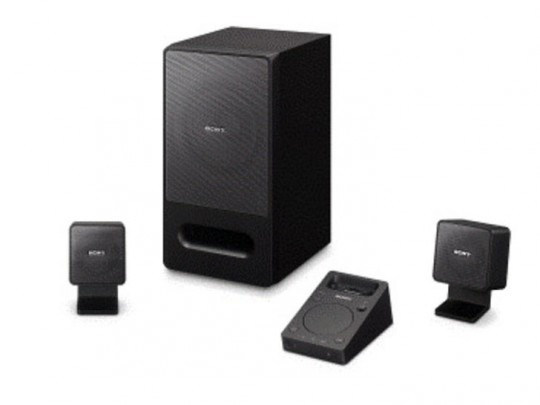 We're waiting to see a toaster with an iPod dock at this point. Sony has unveiled a brand new set of PC speakers today, ones that the company believe are capable of "blowing all other PC speakers off the stage." Bold words, but that's what we've come to love about Sony over the years. They always have bold words. And they want bold people, with bold wallets, to go ahead and step on forward to take a peek at these new speakers, which have garnered a very auspicious title: muteki.
What's that mean? In Japanese, muteki stands for 'invincible' (it's also a word that stands for foghorn, but we won't go there), and that's exactly the title Sony wanted for the new set of PC speakers announced today. A lot of outstanding features pock-mark the Invincible set, or the SRS DB500 2.1 PC Audio System as it's going by on the streets, like the integrated S-Master digital amplifier technology that had originally only graced Walkman products, as well as Sony Hi-Fis. Due to the amp, Sony is saying that the resulting sonic performance is "awesome". Low-end frequencies are managed by a 150W bass reflex system, with a long-stroke 160mm driver and magnet. Mid- and high-range sounds are released crisply and clearly by two compact satellite speakers, both packing 75W. Sony claims that the all-digital amplification actually reduces power consumption by up to a staggering 85%, when compared to analogue amps.
Another set of speakers launched is the SRS-GD50iP, which are apparently not as invincible as the other models. This model is the first 2.1 PC audio system from Sony to include an iPod/iPhone dock. The speakers are not that great, at least not compared to the muteki models, as each satellite speaker is only capable of 10W, and the sub is set at 40W. But, there is that iPod dock, and of course you need that. Unless, of course, you're going another route.
[via Tech Radar]