Sony Xperia Z4 Tablet delayed, again, to end of June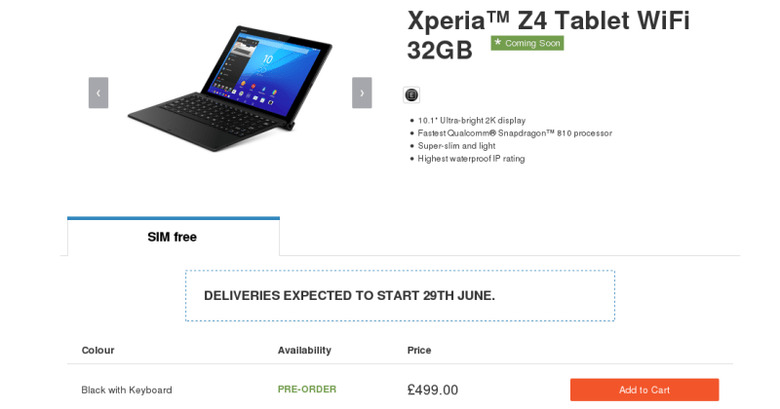 You know that saying that goes "better late than never"? Well, there are times when that brings little comfort to those who wait, especially when it comes to pre-ordered devices. Granted, a month-long delay for the Sony Xperia Z4 Tablet might not exactly be a big of a deal, but putting Sony's behavior in the mobile industry the past few months, you'd begin wondering is something were amiss. Be that as it may, UK buyers who have pre-ordered the tablet are now promised that it will ship starting June 29, and hopefully that is really final.Announced at MWC 2015 last March, the Sony Xperia Z4 Tablet is, by no means, an underdog. Promising 2K resolutions crammed in a waterproof, very thin 10.1-inch package. The innards are no joking matter either, sporting the latest Qualcomm Snapdragon 810 and with 32 GB of storage. All this powered by a very generous 6,000 mAh battery.
The fact that the Xperia Z4 Tablet is the top of the line Android tablet makes its delay only more painful to watch. After the Nexus 9, there has been so far no high-profile high-end Android tablet in the market, which is saturated by low to mid selections. Samsung's super thin Galaxy Tab S2 isn't expected to appear until later, perhaps around September. The Xperia Z4 Tablet definitely has a lot going for it, if Sony can just get it out the door.
What has caused the delay of the launch, which was originally scheduled end of May for the UK, is anyone's guess. It could be supply issues or a major showstopper software bug. It could even be that Snapdragon 810. Sony has been silent about such matters, which only adds to the angst. And this is only the UK launch we're talking about. Who knows when the tablet will arrive in the US or in other key markets now.
Sony's performance in the mobile market lately has been rather bewildering. The Xperia Z4/Z3+ remains to be a puzzling story. The crippled Xperia M4 Aqua 8 GB model is definitely a mark against it. The Xperia Z4 Tablet could very well be its saving grace, if it can roll it out before it loses interested buyers. Or before its rivals put out something better.
VIA: Xperia Blog