Sony Xperia Z3v Review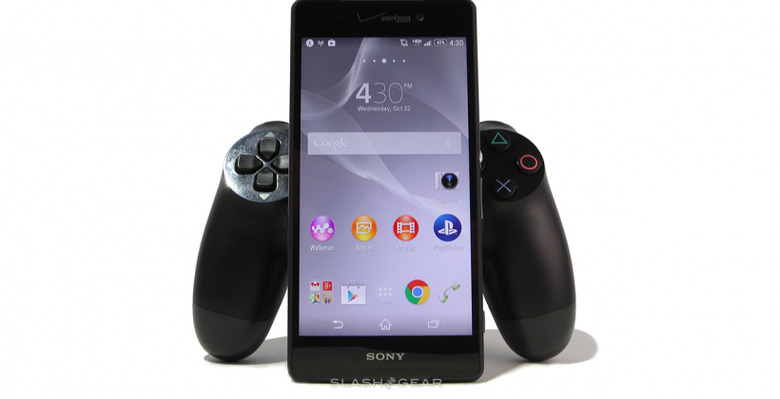 Over the past week we've had a look at the third in a line of Sony's "Z" devices in so many years, this one called the "Z3" when it's not carried by Verizon. This version of the Xperia Z3 goes by the name "Z3v", appropriately, as it runs on Verizon's 4G LTE network. The only differences between this "v" model and the standard "Z3" is the added thickness (negligible) and the reason for the difference in size: the addition of wireless charging capabilities. This device is massive, sleek, and quite clearly meant to compete with the finest smartphones ever released.
Hardware
I'm of two minds about the hardware Sony chooses to use for its smartphone and tablet lineup. When I handle any smartphone that uses excessive amounts of glass – no matter how reinforced and "scratchproof" it is – I feel like I'm handling something that's always one step away from being damaged. The same goes for the iPhone (before they went with aluminum backs), the same goes for basically every tablet fronted by a giant glass panel.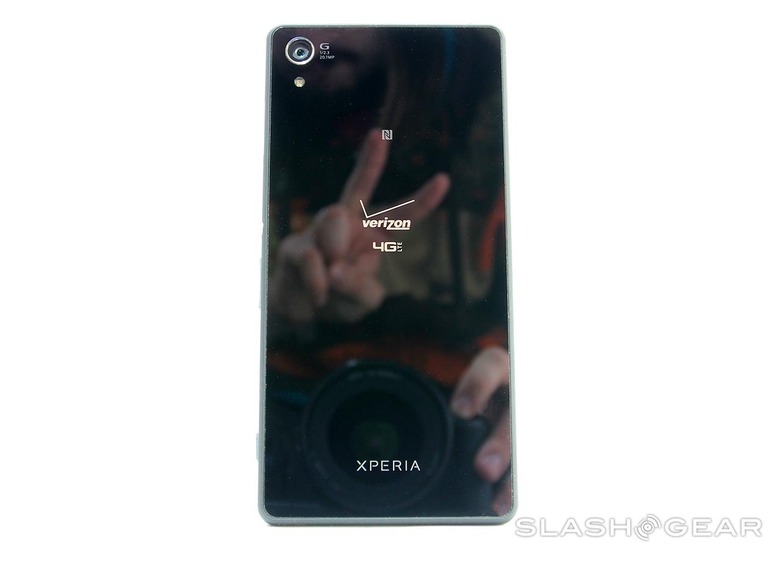 On the other hand, the Xperia Z3v is surrounded by an almost-rubbery soft plastic rim and plastic inlays, and though it's rather large for a smartphone, it's not heavy. It doesn't feel like I'm constantly about to drop it – though I do remain conscious of the possibility. If I were to use this device long-term, I'd still certainly be looking for a case to protect the back.

Up top you've got a single headphone jack near one microphone hole – the only seemingly open slots around the entire rim of this device due to its IP-68 dust and water resistance. At this time, that's the highest weather resistance rating given to a smartphone.
Generally you'll only find this rating on very hardcore, less visually appealing smartphones and odd objects for workers in the field. An IP-68 rating means two things: 6 is for dust protection, the highest rating against dust, "Dust Tight". The 8 is for liquid ingress protection, just one notch under the highest protection against liquid, this standing for immersion beyond 1 meter of water. Sony suggests that, just so long as all covers on the device are closed and we're not jamming this device in a high-pressure water jet, we'll be able to take it down to 1.5m under fresh water for up to 30 minutes without any ill effects.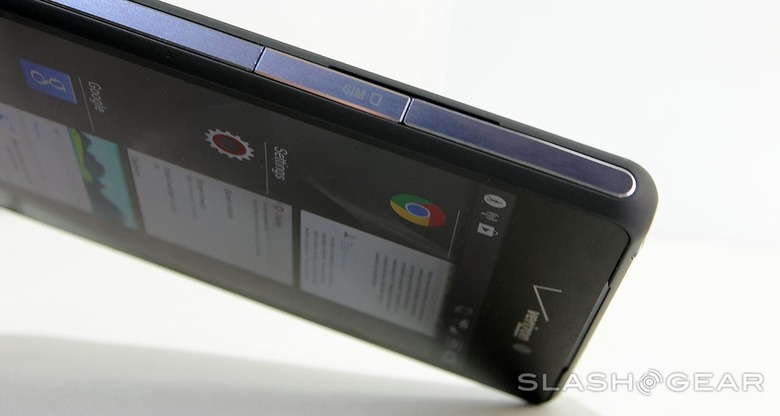 Along the right side of the Xperia Z3v you'll find a physical camera shutter button. This button works particularly well if you're planning on submerging yourself with the device, since touchscreens don't work down there. Also along that same side you'll find a volume rocker and Sony's unique circular power button.
On the right you'll find one cover for your microSD card slot. On the left you'll find two flaps – one for your SIM card, the other for your micro-USB port. These are the covers you need to keep tight to maintain water resistance.

Amazing is Sony's advanced integration of these covers in the overall design of the phone. I was made to look foolish the first time I tried to find the micro-USB port, as it is particularly well hidden.
Above and below you'll notice that we've propped the Xperia Z3v up against a DualShock 4 controller from the PlayStation 4. This controller works with this device as a standard set of joysticks and buttons – that's not true of every Android smartphone.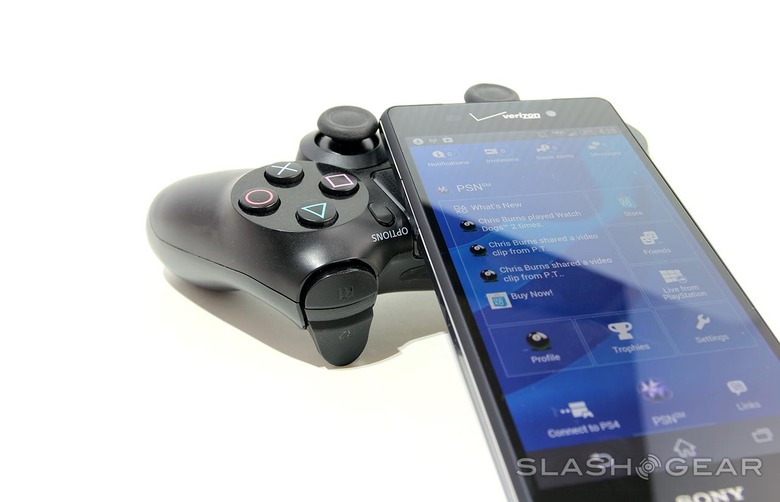 Sony's powerful commitment to their own ecosystem dictates that they dedicate their time to optimizing the connection between this controller and their own devices. They've even gone so far as to create a connector latch sort of accessory that we had a peek at when we first saw the Z3 and again when we saw the Z3v for the first time.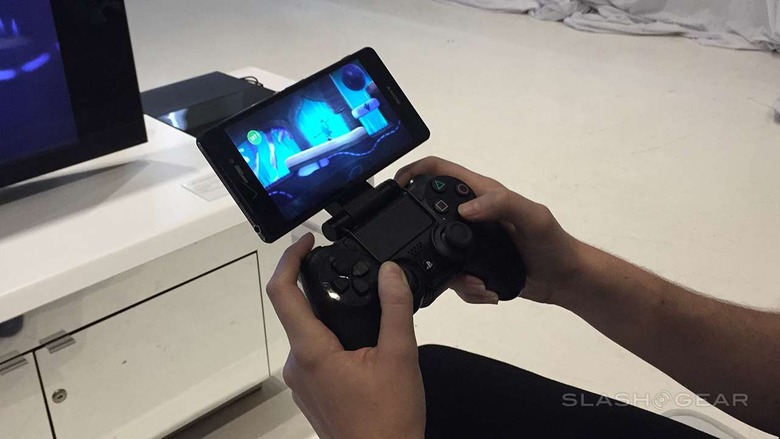 The experience is very, very similar to that of the original NVIDIA SHIELD, when it comes down to it. Once the app to connect the Xperia Z3v to the PlayStation 4 remotely is released, we'll be reviewing that as well – for now, just know that every game that works with a controller works exceptionally well with the DS4.
Software
Sony knows that they're being extra clear about what software they want you to use. To make it extra easy to make the decisions they want you to make, they've created more than one app that serves you their media – movies, music, and games.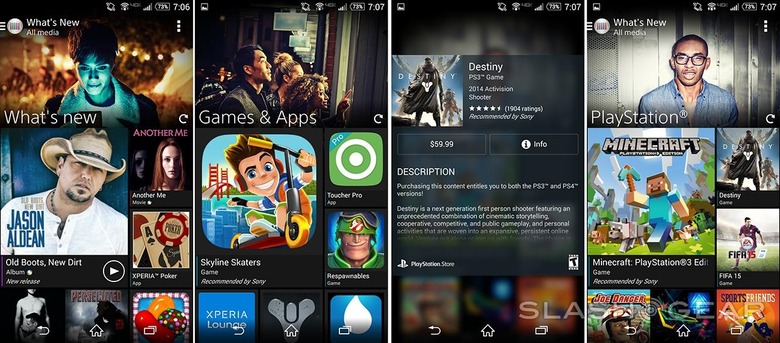 Above you'll see Sony's "What's New" app. This is an app we'd generally avoid, as they're generally not created with nearly as much finesse as Sony executed this app with. Here you can see apps and games in a collection curated by Sony for Sony devices – your Xperia Z3v specifically. And your PlayStation 4. Through this app, you'll see PlayStation 4 games like Destiny, which you can then buy and download remotely.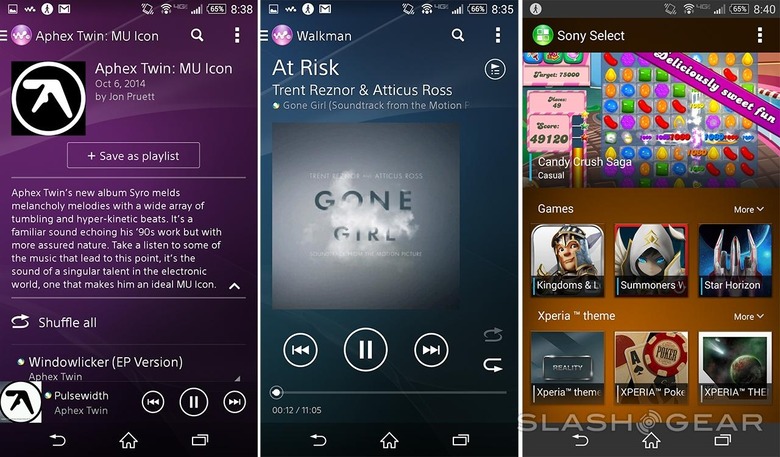 Sony Select's content is VERY similar to that served up by "What's New", but based more in games. The Sony Walkman app serves up your Sony-bought music as well as the music you've transferred from your computer to your phone – MP3s and such. Like the rest of Sony's collection of apps, this is a beautiful way to serve yourself your own audio.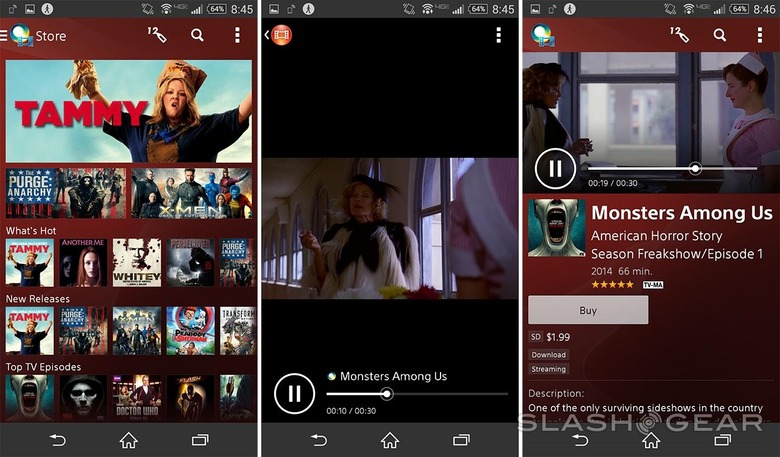 The "Movies" app works similar to the Walkman app, but here for video instead of music. Here you can view videos captured by your device, videos you've transferred to your device, and videos you've purchased with Sony's Video Unlimited. This is one of those services you'll see pop up in several places – your smart Sony TV almost certainly has access as well.
Sony is no stranger to the fitness fad that's struck the smart device universe over the past couple of years. Because of this, they've included an app called Lifelog. With this app, you can track every element of your life, either automatically (with the smartphone's sensors) or by keying in the information yourself, like a journal. It's up to you how good a track you keep of yourself.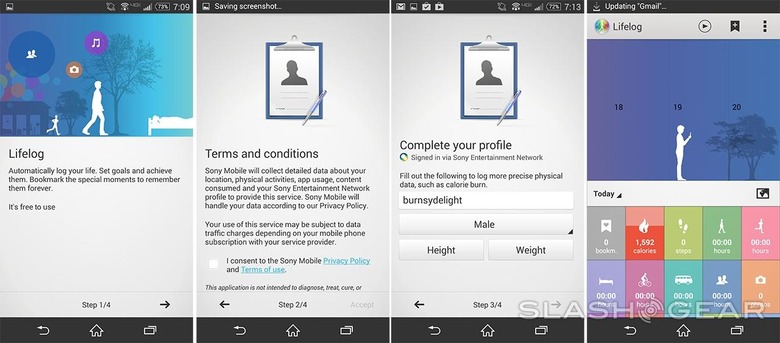 Small Apps launch from your multitasking screen and provide you a way to access items like a calculator without launching a full-screen app. Doing some math in an email? Pick up the calculator Small App and run with it!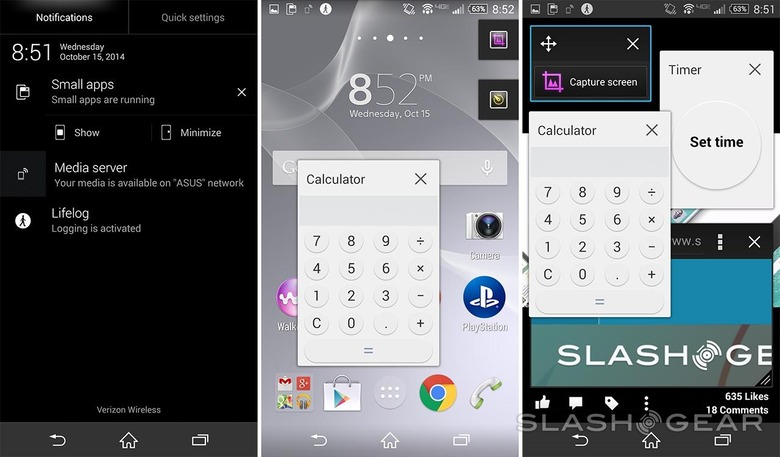 Below you'll see two digital payment apps. The one on the left goes by the name of Softcard – it's included with the device, as it is with all NFC-toting smartphones carried by Verizon. On the right is Google Wallet, which you'll have to download if you intend to use it. Both are extremely easy to use.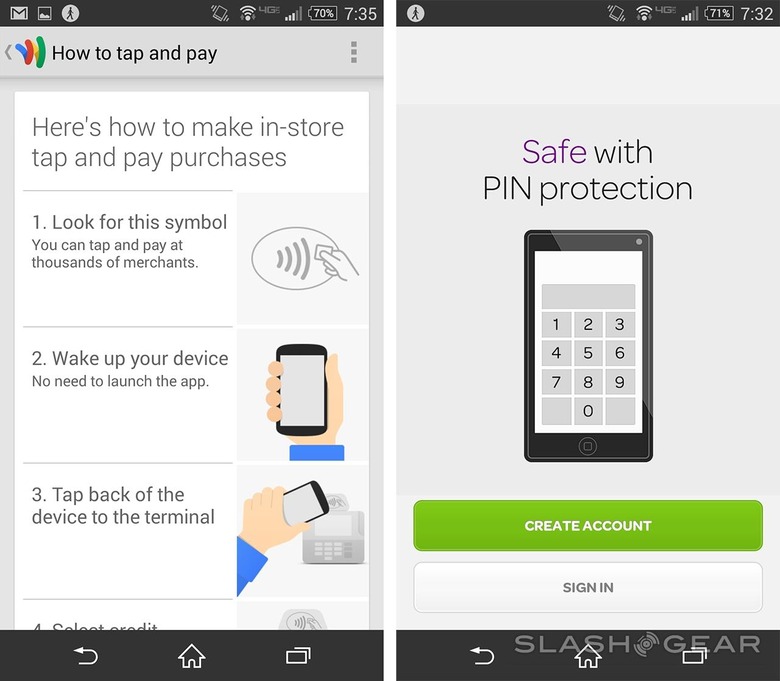 I've included both of the apps in a quick mention here because I want to make clear: the Apple Pay craze you've almost certainly heard about is not the dawn of paying with your smartphone. Google Wallet and services like Softcard are established, and they work great. Bust out your Xperia Z3v with either service running and you'll be paying your bills at McDonald's and buying bottles of soda pop from the vending machine like a futuristic pro.
The Sony Xperia Z3v works with a Qualcomm Snapdragon 801 8974-AC processor – that's a quad-core SoC clocked at 2.5GHz running Krait 400 CPU and Adreno 330 GPU power. It's heavy-duty – it's more than beefy enough to run any app in the Android universe, and run it well. You've also got 3GB of RAM to back you up, so no worries about doing multiple things at once.
Above you'll see several benchmarks completed by the Sony Xperia Z3v. You'll notice that it does quite well, as it very well should. Remember that benchmarks are not a good way to decide whether or not a smartphone or tablet is good enough for you. Unless you're comparing two devices with the same hardware save the SoC, they're really just for fun.
Camera
The camera on the Xperia Z3v is a masterpiece of mobile image capture. You'll be working with a 20.7-megapixel back-facing camera with ISO sensitivity of 12,800, f/2.0, 25mm focal length, 1/2.3" Sony Exmor RS sensor, LED flash, and a bevy of software features. You've got face detection, ISO control, HDR, panorama, geo-tagging, touch-to-focus, autofocus, self-timer, and augmented reality apps up the wazoo.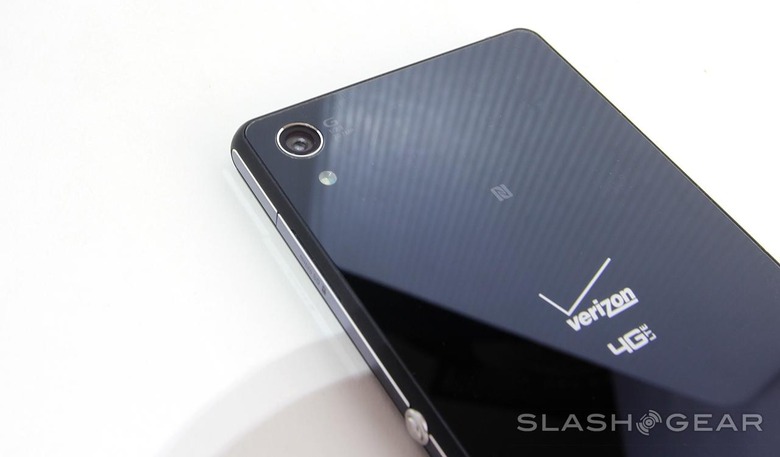 Up front you've got a 2.2-megapixel camera that's also no joke. The back-facing camera is able to capture 3840 x 2160 (4K) video as well as 120fps video for extra-creepy videos of your cat. Like the one you're about to see here:
The following collection of photos should serve as a very basic look at the capabilities of the camera. Let us know if you desire any other specific camera settings demonstrated / environments explored. As always with a SlashGear Review, this is not the end – it's jut the beginning. Watch out for the picture-in-picture effect too, it's unsettlingly good.
Battery
Due in a large way to the battery optimizations Qualcomm continues to execute with their Snapdragon line of smartphone processors, you'll be going all day with the Z3v. This device easily clobbers an entire day of work with ease – even with heavy usage, we've been able to go through an entire 8-hour work day without needing a charge.
Using your Z3v as a mobile hotspot will chop that time down by half, while you'll get at least a full-length LTE-streamed movie out of the deal – one a least. This device is ideal for taking onboard a long plane flight as well, just so long as you don't blast display brightness at 100% – set it to adjust to the lighting conditions around you and you'll be golden.
Wrap-up
As any good manufacturer does, Sony once again delivers their finest work of smartphone art in the Xperia Z3v. Each successor to the Z becomes better – and bigger. Now we've got to see about the Z3 Compact to get the slightly more pocketable experience.
If you're heading off against the HTC One M8, Galaxy S5, iPhone 6, LG G3, and Moto X, you'll have several key points to consider. Motorola is the most customizable, going so far as to include wood back panels. The LG G3 has a very comparable camera experience to the Z3v, but a slightly more unique body – back-facing buttons as well as a 2K display up front.
The Samsung Galaxy S5 is waterproof, just like the Z3v – and has just as robust a device ecosystem around it. Samsung vs Sony is really going to come down to which brand you like best – or what brand's devices you own the most of.
The iPhone 6 is a completely different ball-game, bringing a top-notch camera, but working with iOS 8.1 – this comes down to ecosystem even more than the Samsung device. The HTC One M8 is another very comparable device to the Z3v, mostly coming down to comfort in this case – they're both of the finest quality hardware, you'll just have to see what feels better in your hand.
You'll be able to pick the Sony Xperia Z3v up from Verizon starting today (the 23rd of October) for $199.99 USD with a 2-year contract. You can also purchase this device off-contact for $599.99 USD.