Sony Xperia Z1 mini leaked with Snapdragon 800 chipset and 20.7-megapixel camera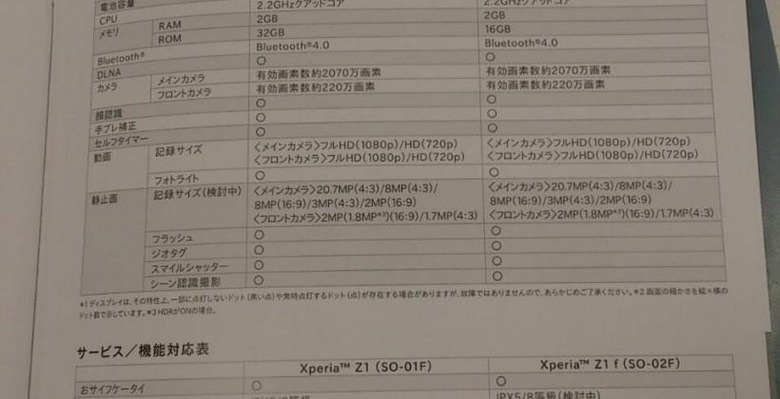 An image has leaked online that claims to show the Sony Xperia Z1 mini or Zperia Z1 f smartphone also called the Honami mini. The phone carries model number SO-02F and the little image shows that four colors will be available at launch. The colors include black, white, red, and green.
It's hard to tell, the red version could be pink. Users shouldn't get this device confused with the normal Xperia Z1 smartphone we've already got our hands on in the past. The specifications show that the Z1 mini will use the same 2.2 GHz quad-core Snapdragon 800 chipset used in the full-size Xperia Z1.
The smartphone will have a 4.3-inch display with a resolution of 720 x 1280. The device will also have 16 GB of internal storage, 2 GB of RAM, and a 2300mAh battery. It will also feature a 20.7-megapixel rear camera along with the 2.2-megapixel front camera.
The device will measure 127 mm x 64.9 mm x 9.4 mm. Sony is also making the phone a bit rugged with IP 55/IP 58 ratings for dust and water resistance. This is firmly in the rumor land right now with no official confirmation from Sony that the device exists. This leaked brochure is claimed to be from NTT DoCoMo.
SOURCE: Xperiablog